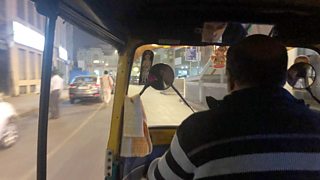 In the World Service digital products team, our aim is to grow our audience in emerging markets around the world.
Designing for an audience that spans the globe is tricky. Complex logistics and language barriers make doing valuable user research a costly challenge. But the BBC World Service makes news in six Indian languages, and our products and services should meet the needs of everybody that use them.
To check our existing products meet our users' needs and find out how we can improve them, we travelled to India to see what it's like for them getting their news in their native language — specifically, in Punjabi and in Marathi.
Our aim
We wanted to get a better understanding of:
What people consider to be news
The context in which people consume news
Their needs, motivations, behaviour and pain points
We also wanted to test 3 prototypes — the result of a series of design sprints - that we hoped would give mobile users a better experience.
Since we were travelling to India, we could tap into the knowledge of the Editorial teams in the Delhi bureau. They work directly with our audience and understand them better than anyone else in the BBC.
Our research method
We worked with an external agency, Sutherland Labs, to undertake a piece of research with 12 participants: six consumers of Punjabi news and six consumers of Marathi news. We focused on women (58%) and people under 35 years of age (67%) as they make up the most underserved audience groups.
We used three research methods:
1. Diary study
We ran a diary study for 10 days. For the first five, participants reported their general news consumption behaviour: what they read and why, how they consumed it and on which devices.
We then asked participants to use the BBC Punjabi or BBC Marathi website as well as their usual sources and report back.
2. Stakeholder interviews
We held interviews and focus groups with many editorial teams across language services, discussed the challenges journalists and editors faced, and gathered feedback on our new design concepts.
3. One-to-one prototype testing with the participants
We reviewed their consumption habits and preferences, asked them about specific diary entries and finished by testing the three prototypes.
Our research findings
Motivations and interests
There were two key drivers behind the participants' news consumption: the need to be up to date with what is happening in the world and engage in conversation with colleagues, family and friends.
Users check the news predominantly in the morning and evening to find out what had happened with a focus on hyper-local updates that could have an immediate effect on their daily lives.
Topics of interest range from hard news to entertainment. Local news, particularly about violence and incidents, is very important to users. Opinions expressed by personalities particularly interested users, and this seems to have a big impact on what news they decide to consume in depth.
Religious themes are quite popular in Delhi and users were expecting providers to cover the topic in detail. Astrology draws interest across men and women, too.
Senior Broadcast Journalists of the Hindi service who have been focussing on women engagement told us that inspiring stories, with an emotional drive, perform well among women. Topics such as tragedy, health and babies-related stories attract the most interest.
Breadth, not depth
Participants expect to see, effortlessly, everything they should be aware of on their app's main screen.
For participants who allow notifications on their apps, skimming through headlines in their phone notifications is a convenient way to stay up to date. They only opened an article if they felt it was relevant to them and critical to know.
Most participants scan the top stories' headlines to get the gist of what's happening in the world. In busy cities like Delhi and Mumbai, time pressures limit users into choosing the articles worth reading during their commute or breaks at work. Images, together with catchy headlines play a big role in decision making.
News articles aren't consumed from top to bottom. Users read the first paragraphs only if they engaged with the topic before moving on to the next headline.
Most participants prefer to read news articles rather than watching videos, which may be due to a lack of time and privacy.
Language fluency has an impact on reading styles. Older participants were more comfortable readers of Punjabi, while younger participants were slower and more unsure about the meaning of some words. Requests for an in-page dictionary came up several times during the sessions.
Marathi users were reading quicker but their attention span seemed to be lower, with participants seeking more breadth than depth.
A concept testing session in Delhi
Relevance and personalisation
Participants had a mixed reaction to the concept of personalisation. There was an interest in personalised content but there wasn't a consensus with regards to how participants expected it to be delivered: actively (through manual customisations) or passively (through intelligent recommendations).
Our observations suggest that while users are likely to appreciate passive personalisation of content, there are three key things we would need to take into account:
Clear signposting of personalised content alongside curated content
Allowing the user to control the content they see, and the notifications they receive
Users expect personalisation from mobile apps, but not websites
Accessing news: websites vs apps
Participants preferred apps for their ease of access: one tap from their home screen, compared with finding the website link — a considerable effort in some cases. Very few participants knew how to bookmark websites or add to home screen. They also expected to receive notifications from news apps, which some wanted.
In Mumbai, some participants thought websites used more data and took longer to load. A few participants across both cities used UC Browser (a data-saving browser) to reduce data use.
Reviewing our current products
Compared with most Indian news sites, the World Service website design is quite different. Our sites have more white space, fewer (or no) adverts and generally less information-overload.
After speaking to both editorial staff and site users, this is a good thing. A BBC journalist in Delhi described the clean layouts and content-first designs as "ahead of the competition".
Adverts and unrelated content distracted a few users when using competitor apps, including pop-ups and full page takeover adverts.
The BBC World Service website
Navigation has to be easy
All the participants expected to be able to navigate to a range of topics with minimal effort.
They wanted to be able to dip in and out of topics using clear, listed links at the top of the site pages.
Participants missed, or ignored, less obvious navigation patterns such as hamburger menus and article tags. They perceived them as high-effort, using them only when they couldn't find what they were looking for.
Popular Indian news apps: Times of India, Jagbani and Lokmat
What's next?
We continue to learn the best way to conduct international research that gives us meaningful insights into audience needs and behaviour.
We plan to do more international research. The value of getting input from our users — wherever in the world they are — is clear. It helps us to put the user at the heart of the work we do and make informed decisions at every step of the design process.
The more background research we have access to beforehand, the easier and more effective the design phase will be. Getting real user feedback on prototypes gives us the chance to learn and iterate quickly.
Over the next year, we're rebuilding the World Service website and we're excited to apply our learnings. Stay tuned!