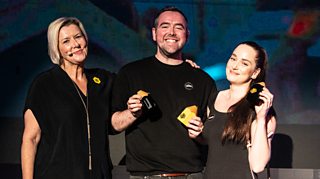 D&AD President Harriet Devoy (left) New Blood winners Kenneth Meek (centre) and Marianne Johansen (right)
It's been a week since one of our favourite nights of the year; the D&AD New Blood Awards 2019. And we're still giddy with excitement after the Black Pencil - one of the creative industry's highest accolades - was awarded to an entry in the BBC category!
If you've never heard of the D&AD New Blood Awards, trust us when we say they're a big deal (they're like the Oscars of the design world). Real briefs are set each September - including one from BBC UX&D - and young creative talent from all over the world submit entries in a bid to win a coveted Pencil.
This year we asked budding designers: 'how can the new habits for our on-demand, multi-platform world influence, shape and develop BBC Sounds offering?' We had some incredible entries, and one of them went on to win the highest honour, the Black Pencil!
The Black Pencil is a very rare award. It's only given if an entry completely wows the judges, to the point that they fear for their own jobs. Last year, no-one won it. This year, an unprecedented three Black Pencils were given, with one going to the creative team behind Narration - a response to the BBC brief. It's a really big deal, and we couldn't be more elated!
Narration was pitched to us by the creative duo Kenneth Meek and Marianne Johansen from London School of Communication Arts. Their idea gathers the BBC's audio-described TV into BBC Sounds, allowing people to enjoy their favourite shows, screen-free, while multi-tasking. The design also makes it easier for the intended audience - people who are blind and partially sighted - to find TV shows.
Steve Gibbons, Head of UX at the BBC, was one of this year's judges. He said: "Coming across Marianne and Kenneth's submission was like witnessing one of those rare moments of genius. Such a simple idea, beautifully executed and told. It showed a clear understanding of the brief, based on genuine insight with the audience, and brings a fresh approach to what we already have available."
Here in UX&D, we always keep a keen eye on the D&AD New Blood Awards. It's an important part of our commitment to nurture the next generation of creative talent. In fact, one of our UX Designers, Shalyn Wilkins, came to work with us after winning the Yellow Pencil for her response to the BBC brief in 2017.
We had a little chat with Shalyn to find out how the D&AD New Blood Awards helped kick-start her UX career. She said: "Coming from a graphic design background, I wasn't fully aware that the work I was doing at university was actually UX design. The BBC D&AD brief showed me that my interest for research, people and design could be used to create a useful real life project. Winning a yellow pencil was the first stepping stone in my UX career, and I'm so happy it got me to where I am today."
We'd also like to say a huge congratulations to the other winners in our category. You are all amazing! Kristina Sadkovich, Lisaveta Mutina, Svyatoslav Kilesso, Tatiana Krylova and Kirill Pavlyukevich were awarded the Graphite Pencil for their entry, Soundmoji. Wood Pencils were awarded to Matti Scherzinger and Tyler Lovell for BBC Mix, Farah El Feghali and Daniel Azar for Hear both sides of the story, and Marissa Lim for Spark. We can't wait to see where your creative talents take you next!
You can find out more about the D&AD New Blood Awards on their website. And we urge you to keep a close eye on Black Pencil winners Marianne and Kenneth via their Twitter page, @make_uswork.