What is UX&D?
As a multi-disciplinary team united by a human-centred approach, we work together to design the BBC's digital experiences.
Contributors

BBC UX&D Staff
Insights from BBC UX&D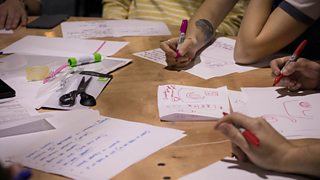 If you've landed here, you're probably wondering what all this UX&D stuff is about.
UX&D stands for User* Experience and Design. It's the umbrella for all the designers, writers, researchers, information architects and accessibility specialists that make up our 200-strong team.
Together with our colleagues in Design + Engineering, Editorial, and Marketing & Audiences, we design the BBC's digital experiences. From Sport to CBeebies, Weather to World Service, you'll encounter our work whenever you interact with the BBC online.
*Psst, time for a quick aside? Depending on who you talk to at the BBC, you might hear words like 'audience', 'the public', 'users' and so on. But really, it's all the same. We're talking about 'you' - the people who use our services. So, you might spot all of those words used in this article.
What does UX mean to us?
Though our team is made up of many disciplines, at our heart we're united by a human-centered approach. That means everything we do starts with you. Our practice is built on getting to know you and crafting the kinds of digital experiences that suit your needs. From shaping screens to choosing the right words, it's all about being useful, usable and user-friendly.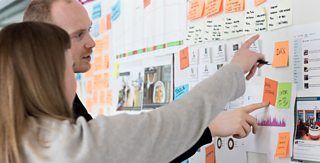 What about the design part?
The BBC is full of creative folk, with so many great ideas. Design is a practical way to explore, experiment and evolve those ideas so that what comes out in the end is truly innovative. To us, design is the bridge between creativity and innovation. It's how we shape new thinking into delivering better digital experiences. And in turn, it's just one way we deliver on our public promise to add value.
If you'd like to know more about the principles that underpin our work in UX&D, check out this article from Colin Burns, our former Chief Design Officer.
How is our team shaped?
Our team is a kind of fabric that we weave together, with the warp and weft representing the different strands of our work. The warp is all the vertical strands, with teams of UX designers embedded in specific online products like Weather, Sport or iPlayer. Between them our designers have a range of specialisms, from interaction design to animation. The weft is Design Research, UX Writing, UX Architecture and Accessibility. These specialist practices weave horizontally through all our products and projects.
Though our teammates work in smaller, independent groups (products) with their own priorities, together we make UX&D - one big umbrella team that everyone is part of. It can be a tricky balance, but the very strength of our team comes from all those interlocking threads, each supporting the other. It's what pushes us all to do great work, share our practice and create seamless audience experiences.
What does a UX&Der do?
There's no such thing as a typical day in the life of a BBC UX&Der. But there are some common processes we share:
Diverge - the stages of a project where we need to think big and keep an open mind. These are exploratory phases, whether we're gathering lots of research or coming up with loads of ideas.
Converge - here's where we crack out the critical thinking. When we're in converge mode, we might be identifying key challenges or honing in on the right ideas. It's all about smart decision making.
Iterate - a fancy way of saying "now do it again", the iterate stages are exactly that. This is where we test out ideas, change the things that don't work and improve the things that do until we arrive at the best solution.
You'll find different models for this kind of design process across the industry, from the Design Council's double diamond, to the design sprint popularised by Google. Whatever model we choose, we rely on shared design practices like user research, content strategy, journey mapping and service design at every stage.
Collaboration is key
Hopefully, by now you'll see that UX&D are creative practitioners and problem-solvers, with a large bag of tools to suit different challenges. But we're also creative facilitators and collaborators. We're here to work with our talented colleagues across the BBC to bring creative ideas and design thinking together. By doing this, together we can create a truly innovative BBC that responds to the ever-changing needs of our audience.