Tofu recipes
White and wobbly, tofu (also called bean curd) is extremely versatile and, with the right addition of flavours, can be delicious. It's made from cooked soya beans, is quite bland in flavour and responds well to marinades. It's also high in calcium and vitamin E and low in saturated fats. Tofu is high in protein and other minerals and is cholesterol-free.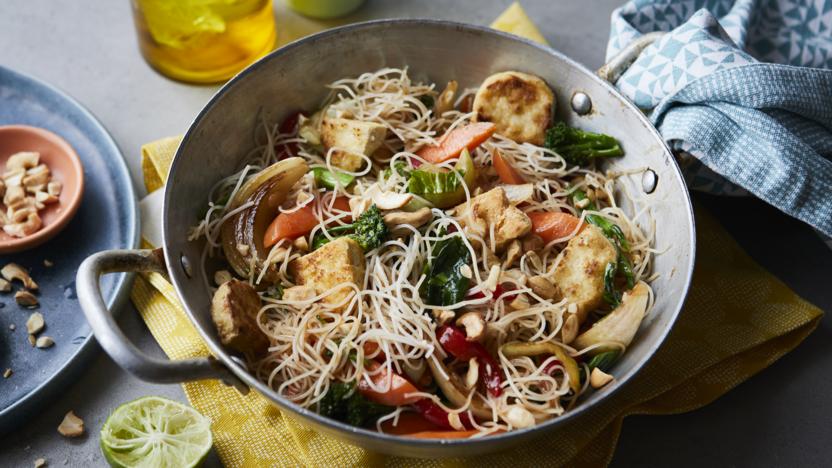 by Justine Pattison
An easy vegan fried noodle dish made with a sweet and aromatic syrupy soy sauce (ketjap manis) and with as much of a chilli kick as you dare!
Each serving provides 461 kcal, 13g protein, 46g carbohydrate (of which 13.5g sugars), 23g fat (of which 2.5g saturates), 7g fibre and 2.2g salt.
Main course
Buyer's guide
Tofu is available in firm, soft or 'silken' textures. It's also available ready-flavoured - smoked, spiced or marinated.
Storage
Beancurd (tofu) is usually sold packed in water in plastic packets or containers. For an extra-chewy, meaty texture, freeze firm tofu first, defrost and press before cooking.
Preparation
Firm tofu is best used as a meat substitute and is good for stir-frying, barbecuing and grilling. If deep-frying, the tofu should be pressed between several layers of kitchen towel to remove any excess moisture.
Softer tofu can be used to make salad dressings, dips and pâtés, puddings, pie fillings, etc.