How to shape hot water pastry for a raised pie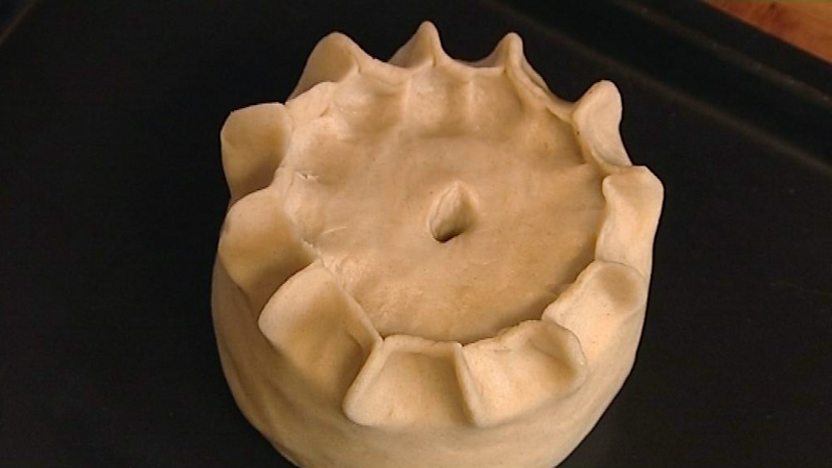 Equipment you will need for this technique
Clean empty jam jar
Cling film
To make an individual hand-raised pie, wrap the outside of a jam jar with cling-film.
Put some flour on a flat surface. Knead your hot water pastry to a smooth, pliable consistency. Don't try to shape the pies with pastry that is too warm and soft as it won't hold its shape. Set aside for 10 minutes.
When the pastry has cooled a little, separate one-third for the lid and wrap in cling-film.
Take the remaining pastry and place on a floured surface. Flatten with your fingers so it's even. Put the jam jar in the middle of the pastry. Sculpt the still warm pastry around the jar taking care to make sure the pastry is the same thickness all the way around. Make sure the bottom is not too thick.
Place the pie base in the fridge to chill for 30 minutes until completely set.
When the pastry is ready, heat but don't boil some water in a kettle. Pour into the jam jar to loosen the pastry.
The jam jar should now slide out easily. The pie is ready to fill. You can use whatever you like. Minced pork works well in a hand-raised pie.
Take the remaining pastry and press out to form the top of the pie. Place the lid over the pie filling and crimp the edge between two fingers. This seals the pie edges to the lid as well as giving it an attractive finish.
Cut a hole in the top for the steam to escape as it cooks.
Recipes using this technique