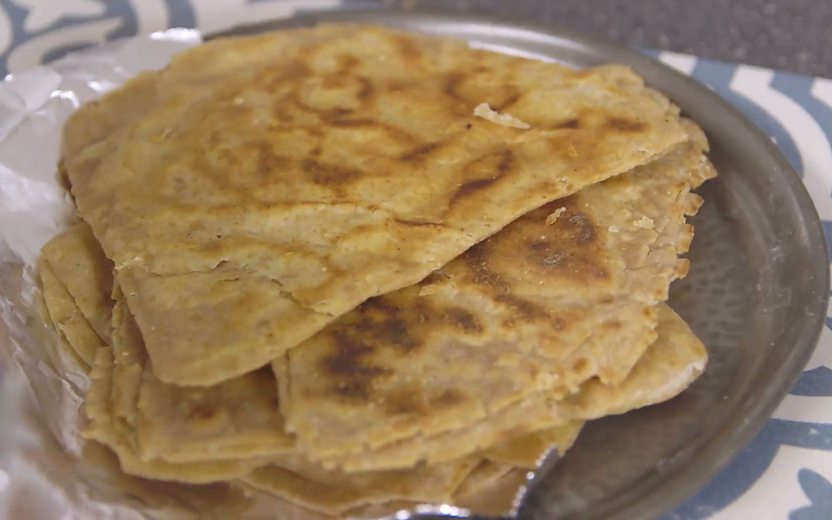 Equipment you will need for this technique
Rolling pin
Frying pan
Spatula
Maunika Gowardhan shares her easy tips for making parathas – soft, flakey flatbreads fried in ghee.
To make eight parathas, put 250g chapatti flour in a mixing bowl and add 2 tablespoons of vegetable oil and salt to taste. Pour in 160–170ml of water a little at a time, mixing with a spoon or your fingers, until it starts to come together. Knead well to form a smooth dough. Cover with cling film and leave to rest for 10 minutes.
Divide the dough into eight equal portions. Roll out each portion into a 15cm/5in-diameter circle. Spread a little melted ghee over the paratha and dust it with a pinch of flour. Fold the paratha in half, spread over a little more ghee followed by a little more flour and fold the paratha into quarters. Using very little flour to dust, roll it out again to around 18cm/7in in diameter. Repeat to make the rest of the parathas.
Heat a frying pan over a medium heat. When it is hot fry each paratha for 1–2 minutes. Turn it over and fry for a further 2 minutes, until there are brown speckles across it. Spread ½ teaspoon of melted ghee over the top and flip it over again, adding more ghee to the top. Cook for 30 seconds. Keep warm while you cook the rest of the parathas.