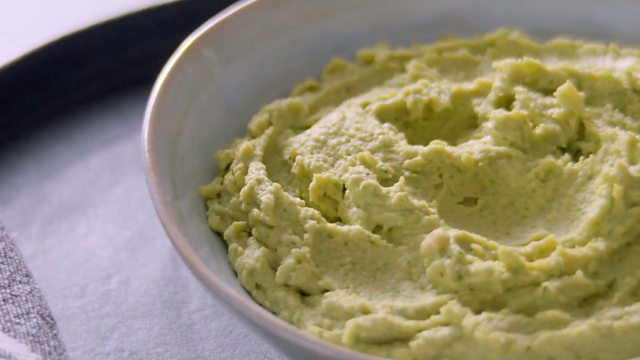 Equipment you will need for this technique
Sieve
Jug
Food processor or blender
Rubber spatula
Serving bowl
Learn how to make hummus in minutes with our easy video guide.
Drain a 400g tin of chickpeas in a sieve over a bowl to reserve the chickpea water. This is useful to help loosen the mix if it's too thick.
Tip the chickpeas into a food processor or blender. Add a small, peeled garlic clove and 2 heaped tablespoons of tahini.
Squeeze half a lemon into the food processor and 1 tablespoon of the reserved chickpea water.
Season with sea salt and blitz for 2–3 minutes, until the mix starts to come together.
Stop the processor and use a rubber spatula to scrape the hummus down the sides of the bowl and back into the mix. Adjust the seasoning, and add a little more chickpea water it's too thick. You can add a handful of chopped coriander if you like. Blitz, until smooth or to your desired consistency.
Put in a serving bowl and use as a dip for vegetables, crisps or pitta triangles.