Swiss rolls and roulades recipes
Swiss roll is made by rolling a thin sheet of sponge cake spread with jam into a log shape. Usually served in slices, the result is a spiral of cake layered with jam. Variations can include whipped cream fillings, sometimes mixed with chopped fresh or dried fruit; the sponge itself can also be flavoured with ingredients such as chocolate. The French Bûche de Noël, a Swiss roll covered in rich chocolate frosting and made to resemble a tree log, is served at Christmas.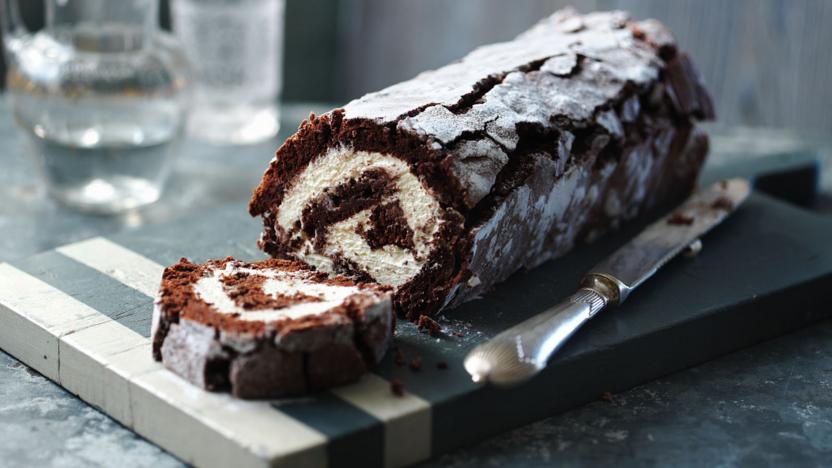 by Mary Berry
Mary Berry's gorgeous chocolate roulade is made without flour so it's light as a feather. Add berries to the whipped cream filling to make a decadent gluten-free dessert.
Cakes and baking
More swiss rolls and roulades recipes
Storage
Swiss rolls should be eaten within a few days of making. If cream is used in the filling, the roll should be stored in the fridge in an airtight container.
Preparation
A long, shallow sheet pan (or Swiss roll tin) is used to create a thin sponge cake sheet that is then cooled and spread with a layer of jam or cream. When baking, take care not to overcook the sponge – any crispness or hardness will make it liable to crack when rolled. Instead, remove the sponge from the oven when it's springy to the touch and just lightly golden-brown. Sprinkle some caster sugar over a sheet of greaseproof paper, then quickly turn out the sponge cake directly onto it. You may find it is easier to first roll up the sponge cake while it's still warm and pliable, then set it aside to cool before filling and re-rolling (the cooled sponge will keep its shape better, is less likely to crack and will not melt a cream filling). When spreading over the fillings, leave a gap free at the edges of the sponge to allow the filling to spread.