Spinach recipes
Spinach is a leafy green vegetable that is generally cooked, but can also be eaten raw when young enough to be tender. It has a bittersweet taste and its strong colour can be used to dye pasta green, for example.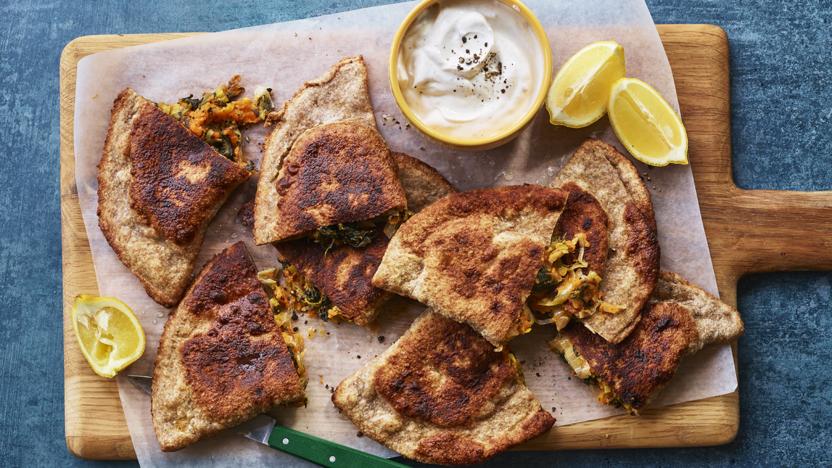 by Dr Rupy Aujla
Bolani are stuffed Afghani flatbreads, baked or fried. Dr Rupy stuffs the simple dough with sweet potato and spinach for a flavourful vegetarian meal or party food that costs under £1 per portion.
Each serving provides 827kcal, 27g protein, 129g carbohydrate (of which 16g sugars), 19g fat (of which 8g saturates), 15g fibre and 1.9g salt.
Light meals & snacks
Buyer's guide
Spinach is at its best from May to October, but it's available year-round. Look for vibrant green leaves without yellowing or signs of bruising. Smaller leaves are best for salads, whereas larger ones stand up better to heat. Bear in mind that spinach leaves shrink dramatically, so what looks like an enormous amount won't be when it's cooked.
Storage
Store dry spinach, loosely packed in a bag in the salad crisper of your fridge for up to one week. To freeze, blanch the spinach, squeeze the water out, then divide into serving portions in freezer bags.