Spaghetti recipes
Spaghetti recipes from authentically Italian to quick and easy dinners.
One of the most popular types of pasta, spaghetti is made from durum wheat and comes in medium-thin strands. It originated in Naples and is found all over the world, with each Italian region boasting its own signature spaghetti dish. Although artisanal brands may be made by hand using traditional methods, commercial varieties are produced using state-of-the-art pasta machines.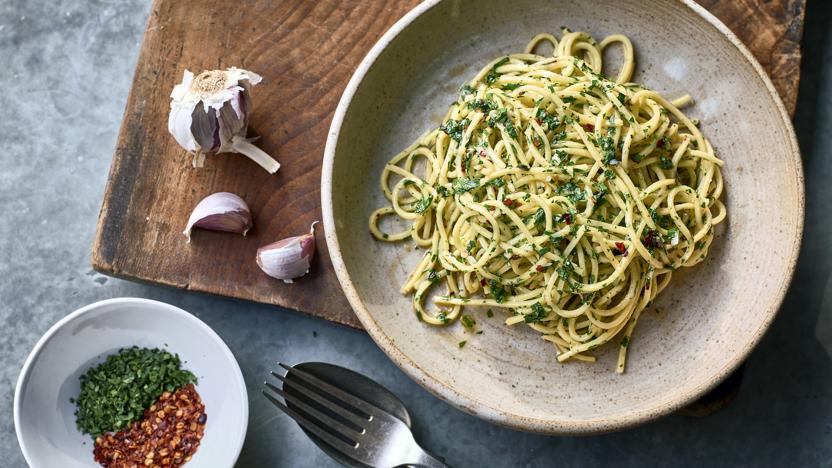 by Anna Del Conte
This is the easiest pasta to make and one of the best: simply a clove of garlic, a pinch of chilli flakes, a little parsley and a generous blessing of olive oil.
Watch Anna Del Conte cook the perfect pasta.
Main course
Buyer's guide
Spaghetti can be bought dried or fresh. The former takes longer to cook, but is recommended as it gives a better texture. Several types of dried spaghetti are available including: extra long, wholewheat and quick-cooking varieties, as well as variously flavoured spaghetti.
Storage
Kept in a tall spaghetti jar in a dry place away from direct sunlight, spaghetti will keep for several months.
Preparation
Cook spaghetti in salted boiling water, following the packet instructions. It is most widely used with Bolognese (ragù), carbonara, tomato and pesto sauces, or combined with vongole (clams) or meatballs.
Typically made with spaghetti