Soy sauce recipes
Made from fermented soya beans, salt, water and barley or wheat flour, soy sauce (or soya sauce) forms a basic ingredient in Japanese, Chinese and other Asian cooking. There are many varieties of soy sauce that vary in consistency and strength of flavour. Light soy sauce is quite thin and has a saltier flavour than dark soy sauce, which is thicker in consistency and richer. The darkest and richest variety of soy sauce is Indonesian ketjap manis, which is made from black soya beans. Tamari is soy sauce that is made without wheat and is dark in colour.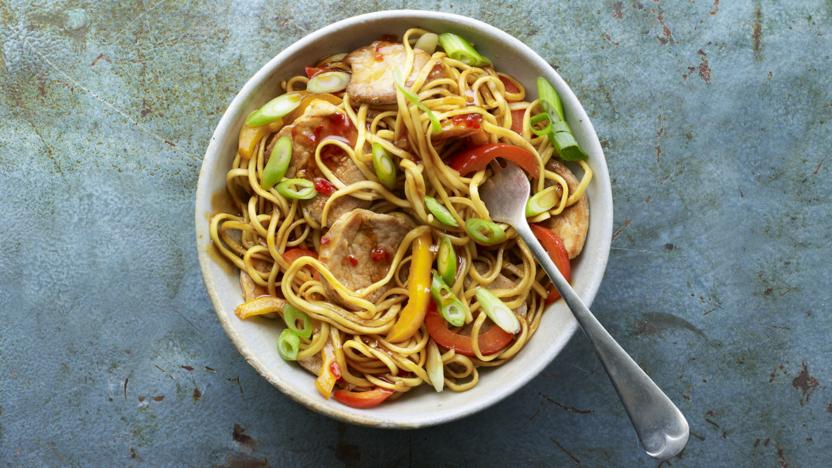 by Rachel Phipps
This easy, brightly coloured pork and pepper stir-fry really celebrates that bottle of sweet chilli sauce – usually used just for dipping – hiding at the back of your fridge.
Each serving provides 669 kcal, 36g protein, 87g carbohydrates (of which 30g sugars), 17g fat (of which 2.5g saturates), 12g fibre and 1.9g salt.
Main course
Preparation
Soy sauce is a versatile storecupboard ingredient, either added to dishes during cooking or used as a table condiment. It makes a great marinade or can be splashed into stews or used in sauces for meat and vegetables. Use light soy sauce to flavour dishes without darkening them - when stir-frying vegetables or chicken, for instance. Use dark soy sauce to give colour to noodle dishes; its sweetness also makes it good as a dipping sauce.
Varieties of soy sauce
Typically made with soy sauce