Smoked salmon recipes
Is there anything more delectable than fresh, rosy smoked salmon? A necessity at Christmas and a joy every other day, get inspiration with our easy smoked salmon recipes. Match it with eggs, pasta or as part of a party buffet.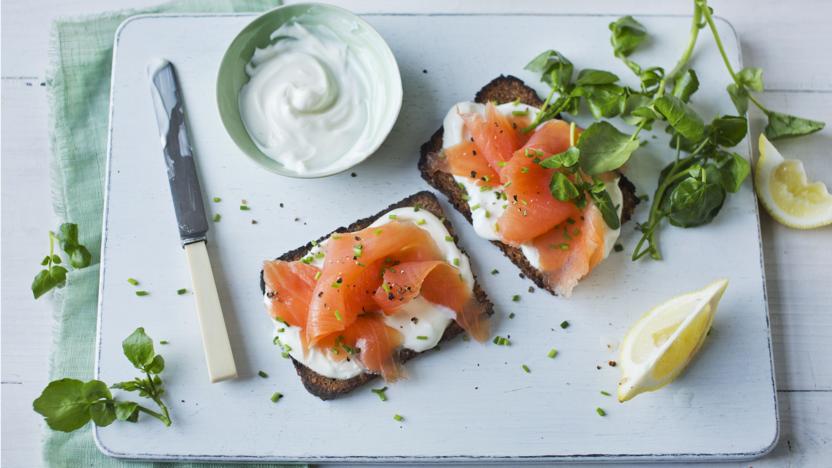 by Justine Pattison
Using dark rye or wholegrain bread for sandwiches rather than white will increase the fibre content. This high-protein open sandwich with salmon and quark cheese makes a quick and convenient low-calorie lunch. Try topping with cooked and peeled prawns instead of the salmon.
With a GI of 49 this meal is high protein, low GI and provides 235 kcal per portion.
Light meals & snacks
More smoked salmon recipes
Buyer's guide
Learning to read the labels on smoked salmon will help you choose the best that you can afford. Whether sold loose at fish counters, or pre-packed in chiller cabinets, the same labelling regulations apply (at a fish counter, the information will generally be displayed on a sign next to the fish). The label must show how the fish has been produced: for example 'farmed', 'cultivated' or 'caught'. It must also state the name of the fish and where it was caught - for example, 'north-west Atlantic'. Be aware of the ambiguity of some labels: a label that reads 'Scottish salmon smoked in Scotland' is preferable to either 'Scottish smoked salmon' or 'Smoked Scottish salmon'. Remember, smoked salmon with added flavourings, for example honey and sugar, aren't subject to these labelling requirements.
Storage
Hot-smoked salmon doesn't keep for long and is best eaten on the day of purchase. Cold-smoked salmon keeps for longer, but is best eaten within two to three days of purchasing or opening it.
Preparation
Salmon is smoked by one of two methods: hot-smoking or cold-smoking. Hot-smoking effectively 'cooks' the fish, because it's smoked over heat for six to 12 hours. Cold-smoked fish is first cured or preserved either in dry salt or brine, then smoked at a much lower temperature for between one day and three weeks (although usually for only 24 to 48 hours). This is the style that most people associate with 'smoked salmon'. The actual smoking process varies a great deal, with each smokehouse using its own techniques. Generally, the fresh fish is salted, dried, washed, then air-dried and smoked over wood chippings.