Sea bass recipes
A superb sweet, white, textured fish, sea bass is a popular feature of menus but you can easily cook it at home. Our sea bass recipes make quick work or a whole fish or fillets.Try Nadiya's easy sea bass bake with potatoes, or add tarragon flavoured breadcrumbs as in Mary Berry's baked sea bass fillets.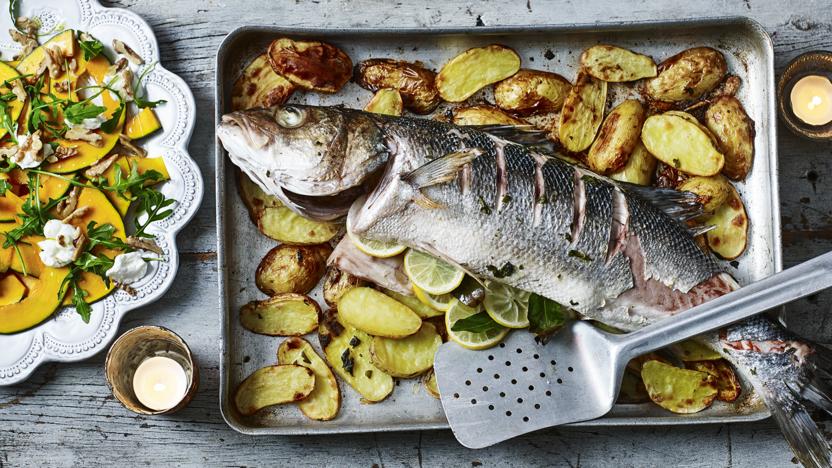 by José Pizarro
A wonderful meal for four people. Whole sea bass is roasted on a layer of potatoes with herbs and a punchy dressing, served with a flavour-packed pickled walnut salad.
Main course
Buyer's guide
Sea bass is available whole and un-gutted, or in prepared fillets (you can ask your fishmonger to gut and fillet the fish for you). The skin is rarely removed. Sea bass is available frozen but is certainly at its best when fresh.
The popularity of sea bass has threatened stocks in some areas and, like many other fish, sea bass is subject to a minimum landing size (it must have grown to a certain length before it can be legally caught). It is farmed extensively in the Mediterranean, which has kept the price low. Sea bass is available farmed all year round. Buy wild sea bass from July to December.
Preparation
Whole sea bass have sharp spines and a thick jacket of scales that need to be removed prior to cooking. Once the scales have been removed, the skin can be left attached. Fillets require pin-boning. Sea bass has such a good flavour that it requires only simple cooking. Classic recipes include branzino, a dish typical of Northern Italy where the fish is cooked in a salt crust. Sea bass is excellent grilled, baked and cooked 'en papilotte'. The cheeks are also considered a delicacy.