Scallop recipes
An expensive but delicious shellfish with a delicate taste, available in a range of sizes. Scallops have two fan-shaped shells which contain rounds of firm white flesh, sometimes with the edible cream and orange coral (or roe) attached.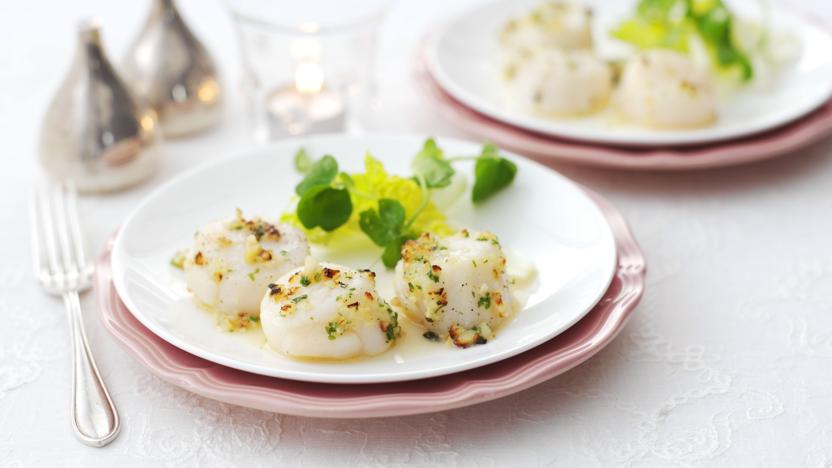 by James Martin
These scallops, delicately flavoured with fresh herbs, lemon zest and rich hazelnuts, take less than ten minutes to cook.
Starters & nibbles
Buyer's guide
Scallops can be bought in or out of their shells. The two main varieties available in the UK are the larger king scallop and the tiny queen scallop. Look out for scallops that have been harvested by hand-diving - this method has less impact on the environment than dredging for scallops does (though carefully monitored dredging at limited times is less damaging to the sea bed than random dredging).
Preparation
Scallops can be steamed, fried or grilled but should be cooked gently and only for a very short time or their delicate flavour and texture will be spoiled. Steam them in wine with aromatics as you would mussels, or wrap them in prosciutto and grill or fry for a few minutes. Scallops go well with Asian ingredients: try pan-frying them in oil with ginger and fresh coriander. They're also a good complement to hearty flavours such as bacon, chorizo, black pudding or watercress. Take care not to over-cook them: serve as soon as they are firm and opaque. You'll need about four to five king scallops per person for a main meal or about a dozen queen scallops.