Roast turkey recipes
It's a once-a-year affair, cooking a turkey, and not the easiest Christmas dinner either! Relax - we'll show you how to cook the perfect roast turkey or roast turkey crown with our collection of delicious recipes.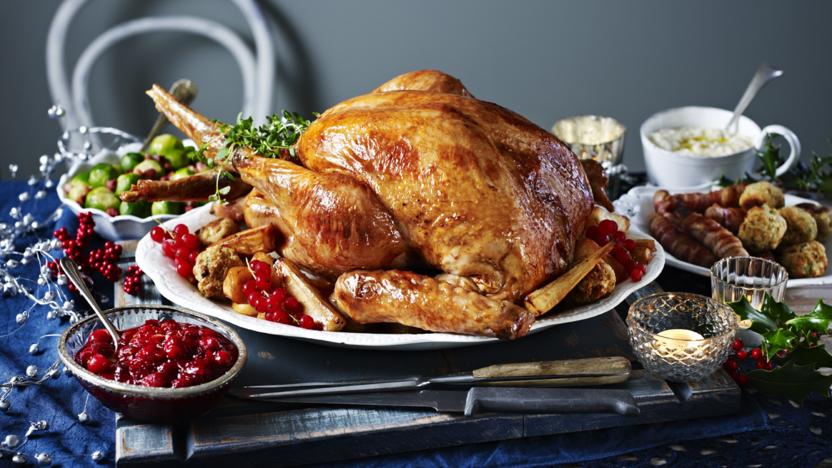 by Raymond Blanc
Raymond Blanc has the best roast turkey recipe. It's easy to cook, tender and juicy. It's the perfect recipe for a stress-free Christmas turkey dinner. Get exact roast turkey cooking times with our roast calculator.
Main course
More roast turkey recipes
Preparation
Roast turkey cooking times
These cooking times also apply to turkey crowns. Remember to weigh your turkey after stuffing it.
-Preheat the oven to 180C/160C Fan/Gas 4.
-For a turkey that weighs less than 4.5kg/ 9lb 15oz: roast for 45 mins/kg or 18 mins/lb plus 20 minutes.
-For a turkey that weighs between 4.5kg/9lb 15oz and 6.5kg/14lb 5oz: roast for 40 mins/kg or 16 mins/lb.
-For a turkey that weighs more than 6.5kg/14lb 5oz: roast for 35 mins/kg or 14 mins/lb.
To stop the meat drying out, baste it every 30 minutes You can also cover the turkey with aluminium foil during cooking; uncover for the last 30 minutes to brown the skin.
Make sure the turkey is cooked through before serving: pierce the thickest part of the thigh with a skewer. If the juices run clear then the turkey is done. If they are pink, slide it straight back into the oven for a further 15 minutes before testing again and continue to do this until they do run clear.
Once it's done, transfer the turkey to a large serving dish, cover with aluminium foil and set aside to rest in a warm place for at least half an hour.