Rhubarb recipes
We've got easy rhubarb recipes for all you fans of the gloriously pink, utterly British, rhubarb. Perfect in a classic rhubarb fool or a comforting rhubarb crumble, it's also delicious for dinner with fresh mackerel or roast pork.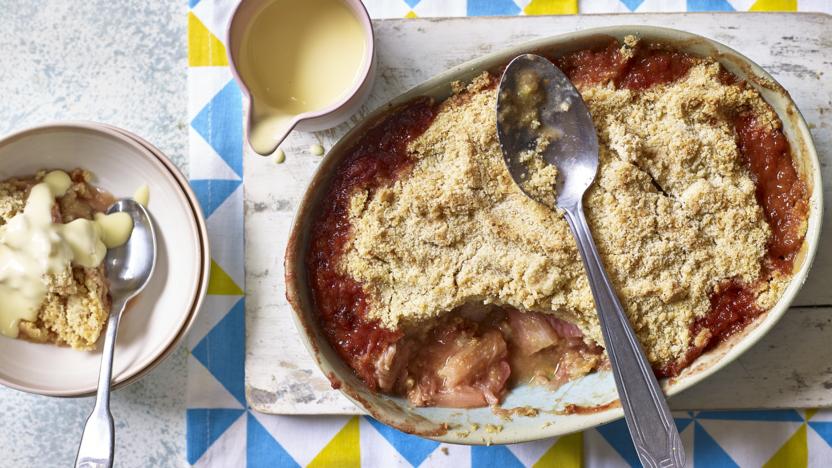 by Roopa Gulati
This spiced rhubarb crumble recipe is a tasty twist on the classic pudding. Cardamom, orange and cinnamon all lift the flavour while keeping it a classic. Just add custard.
Cakes and baking
Buyer's guide
Forced rhubarb is sold from January until March, when outdoor-grown rhubarb takes over. The latter can become coarse in late summer. Choose pert looking stems and avoid any limp or slimy-looking stems.
Storage
Slice, wrap and refrigerate, if possible. Cooked rhubarb freezes well.
Preparation
Wash and trim the rhubarb stems before use. Discard the leaves as they are poisonous. If using outdoor-grown rhubarb, remove any stringy outer layers. Cut into equal-sized pieces to ensure even cooking.
Forced rhubarb is very fragile so poach or bake only briefly to prevent it from disintegrating into a mush. Use a thick sugar syrup as it releases a lot of juice. Outdoor-grown rhubarb has a sharper taste and more fibrous texture, so requires a slightly longer cooking. Both varieties of rhubarb are good in pies, tarts, fools, jellies and ices. Rhubarb also makes a good jam with grapefruit or ginger, and tastes delicious made into a cordial flavoured with rosewater. Orange, vanilla and lavender all complement rhubarb.
Varieties of rhubarb
Typically made with rhubarb