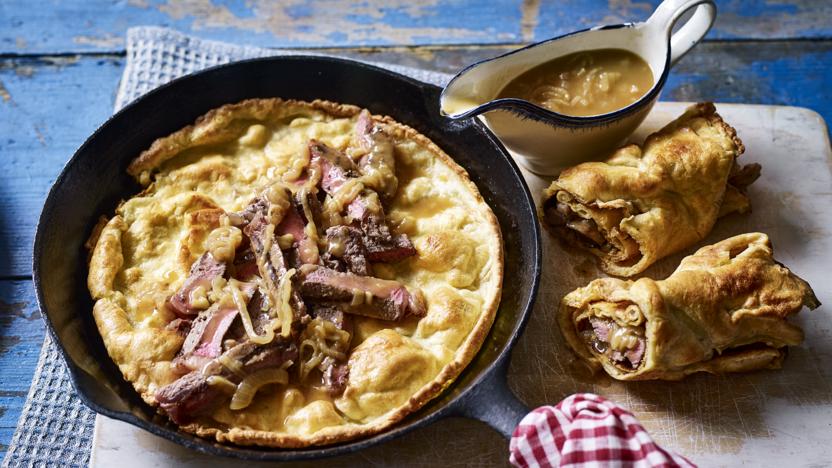 Yorkshire puddings make the perfect wrap for rare sirloin steak and onion gravy. We are salivating at the thought.
Ingredients
For the batter
For the onion gravy
For the meat
Method
To make the batter, put the flour and salt in a large bowl and beat in the eggs until you have a thick paste. Gradually whisk in the milk until you have a lump-free batter. Cover and leave to stand for 30 minutes.

Preheat the oven to 220C/200C Fan/Gas 7 and preheat a 23cm/9in ovenproof frying pan.

To make the gravy, heat the butter in a large saucepan and add the onions. Add 2 tablespoons of water, then partially cover and cook for a few minutes until the onions have softened. Turn up the heat, remove the lid and continue to cook, stirring regularly, until the onions have started to caramelise and are a rich brown colour. Add the bay leaves, yeast extract, sprinkle in the flour and stir. Add the stock gradually, around 100ml/3½fl oz at a time, stirring well between each addition, until it is all incorporated. Add the thyme, season with salt and pepper and add the Worcestershire sauce. Bring to the boil, then turn down the heat and simmer for around 10 minutes until slightly reduced. Keep warm until ready to use.

Meanwhile, transfer the batter to a jug. Carefully remove the frying pan from the oven, add 1 teaspoon of beef dripping and allow to melt. Set the pan over a high heat and add a fifth of the batter, swirling it round so it coats the base of the pan. Immediately return to the oven and cook for 5 minutes. Remove, flip over and cook for 3 minutes more. Remove from the oven and leave to cool and soften slightly. Repeat four times with remaining batter to create five wraps, keeping the cooked wraps warm in a very low oven.

To cook the steak, mix the mustard powder, peppercorns and salt in a small bowl and rub all over the steak. Heat a griddle pan over a very high heat until hot and griddle the steak for 1–2 minutes on each side, or to your preference. Remove from the griddle and leave to rest for 5–10 minutes before slicing thinly. Add any resting juices to the gravy.

To make the wraps, crisp up the Yorkshire puddings by placing them in a hot griddle pan for 1 minute on each side. Top each wrap with a fifth of the meat, pour over some gravy and fold it over. Repeat with the remaining four wraps and serve with the sauerkraut and pickles.
This recipe is from...
Recipes from this episode