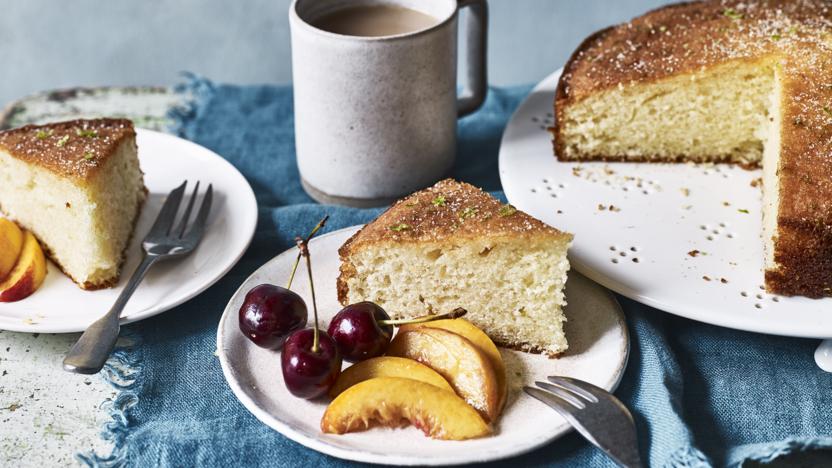 Children and adults love to make this easy yoghurt cake. See the 'Top Tip' for how to skip the scales and use a yoghurt pot instead! Go with the rosewater and lime flavour or swap in lemon or orange zest.
Method
Preheat the oven to 190C/170C Fan/Gas 5. Grease the sides of a 23cm/9in round cake tin and line the base with baking paper.

Mix together the eggs, yoghurt and sunflower oil in a large bowl. Add the rest of the ingredients (apart from the lime juice) and beat together until well combined. Tip the mixture into the prepared tin and bake for about 30 minutes, or until a skewer inserted into the centre comes out clean.

Whilst the cake is cooking, mix together the lime juice with an equal volume of caster sugar (for example 2 tablespoons of juice with 2 tablespoons of sugar) and set aside to dissolve. Sprinkle in the extra zest to add a bit of colour to the top of the cake.

Leave the cake to cool in the tin for 10 minutes, then turn out onto a wire rack. Brush the lime glaze over the top and leave to cool. Serve the cake in slices with the fresh berries alongside .
Recipe Tips
If you don't have kitchen scales you can measure the ingredients using a 125g yoghurt pot or a 120ml container. Fill the pot or container fully and level the surface for each measure. You will need to use 1 measure yoghurt, 1 measure sunflower oil, 2 measures caster sugar and 3 measures plain flour.