Mushroom soup with garlic bread
Preparation time
less than 30 mins
Cooking time
30 mins to 1 hour
This recipe shows you how to make your own garlic bread to accompany a simple, creamy mushroom soup. A lovely lunch or starter.
Preparation time
less than 30 mins
Cooking time
30 mins to 1 hour
Ingredients
For the garlic bread
For the soup
50ml/2fl oz rapeseed oil
1 shallot, chopped
1 garlic clove, chopped
625g/1lb 6oz wild mushrooms, such as chanterelle, ceps, tompette, girolle or oyster
½ lemon, juice only
400ml/14fl oz chicken stock
125ml/4fl oz double cream
50g/13/4oz butter, diced
salt and freshly ground black pepper
¼ bunch fresh chervil, chopped, to garnish
Method
For the garlic bread, preheat the oven to 170C/150C Fan/Gas 3½. Wrap the garlic bulb in aluminium foil and place on a roasting tray. Roast for 40-45 minutes, or until soft. Leave to cool.

Cut the top off the garlic bulb and squeeze out all the soft cloves, then finely chop.

Pour the cream into the bowl of a freestanding mixer and beat for 3-5 minutes, or until the mixture turns to solid fatty lumps with a liquid base. Line a colander with a clean muslin cloth and place it over a bowl. Tip the mixture into the colander and wrap the muslin tightly around the cream. Squeeze out all the liquid so that you have a solid mass of butter in the muslin, then discard the liquid.

Tip the butter into a bowl, add the chopped garlic and a generous pinch of salt. Stir in the parsley and mix once more. Refrigerate until ready to serve.

Meanwhile, for the soup, heat half the oil in a large, heavy-based saucepan over a medium heat. Add the shallot and garlic and cook for 1-2 minutes, or until softened. Add 500g/1lb 2oz of the mushrooms, season with salt and pepper, and cook for 3-4 minutes.

Stir in the lemon juice, then the stock. Bring the boil, reduce the heat and simmer gently for 10 minutes.

Pour the soup into a blender and blend to a smooth purée. Return it to the pan and stir in the cream. Gently warm over a low heat, then stir in the butter, adjust the seasoning, if needed, and keep warm on the hob.

Heat the remaining oil in a frying pan over a medium heat. Gently fry the remaining mushrooms for 3 minutes, or until cooked, then season and set aside.

To serve, heat a large griddle pan and brush the bread with oil. Place on the griddle pan and cook each side for 1-2 minutes. Spread the bread with the garlic butter. Divide the cooked wild mushrooms between bowls, ladle over the soup and sprinkle with the chervil.
Recipe Tips
To make this mushroom soup vegetarian, replace the chicken stock with vegetable stock.
Related Recipes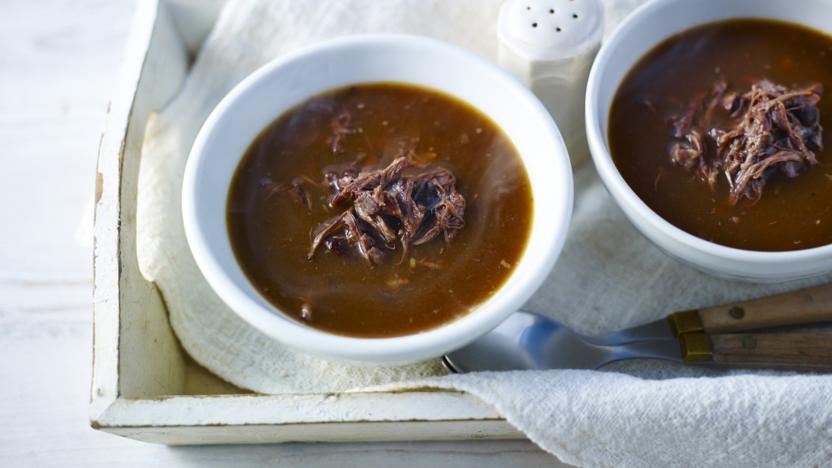 See more soup recipes (73)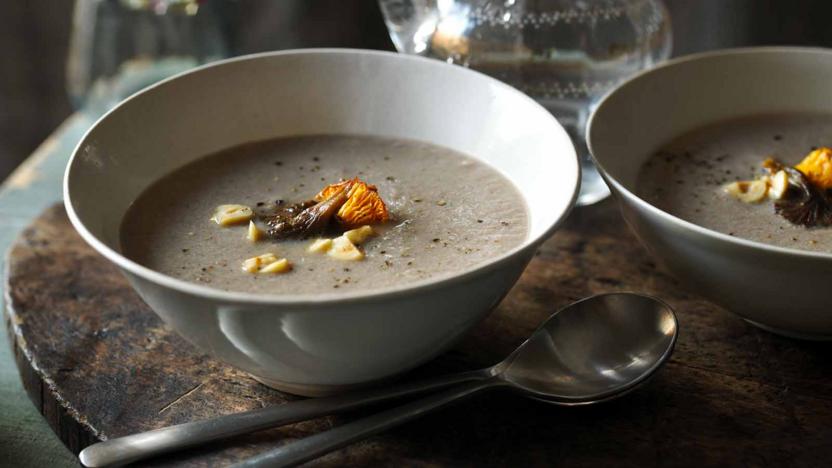 See more wild mushroom recipes (114)