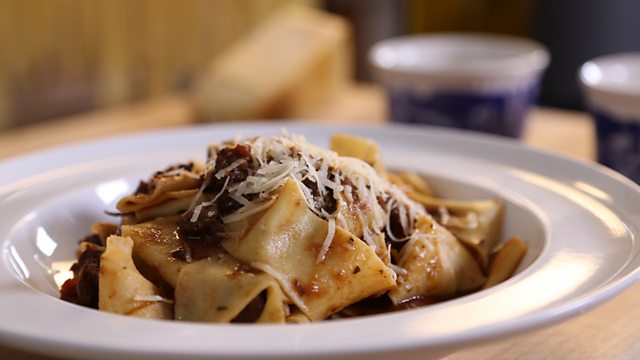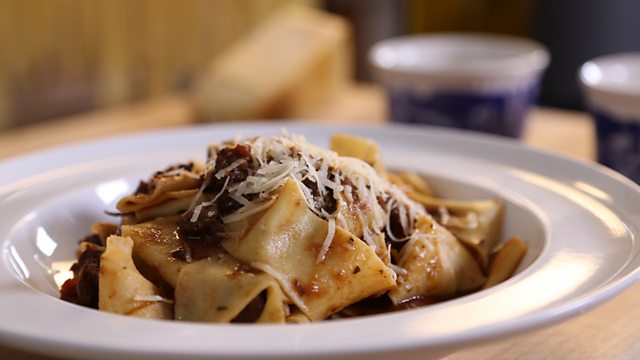 Preparation time
less than 30 mins
This slow-cooked stew of wild boar with juniper berries and black olives is great served with freshly cooked pappardelle pasta and shavings of parmesan.
Preparation time
less than 30 mins
Ingredients
700g/1lb 9oz boneless wild boar shoulder
4-5 tbsp sunflower oil
4 rashers rindless smoked streaky bacon or pancetta, cut into 1cm/½in slices
1 large onion, finely chopped
4 garlic cloves, crushed
75g/2½oz pitted black olives, rinsed, drained and sliced
2 tsp juniper berries, lightly crushed in a pestle and mortar
500ml/18fl oz red wine
400g/14oz can chopped tomatoes
2 tbsp tomato purée
1 beef stock cube
2 large bay leaves
3 bushy sprigs thyme
1 rosemary stalk, around 12cm/4½in long, leaves finely chopped
2 tsp caster sugar
flaked sea salt and freshly ground black pepper
freshly cooked pappardelle pasta, to serve
parmesan shavings, to serve
Method
Cut the boar into chunky pieces, each around 2.5cm/1in. Trim off any really hard fat or sinew as you go. Season the meat really well with salt and pepper. Heat two tablespoons of the oil in a large frying pan.

Fry the boar in two batches over a medium-high heat until nicely browned on all sides, turning every now and then and adding more oil if necessary. As soon as the boar is browned, transfer to a large flameproof casserole or large saucepan.

Pour a little more oil into the pan in which the boar was browned and fry the bacon for 2-3 minutes, or until the fat crisps and browns. Scatter over the meat. Add a touch more oil to the frying pan and fry the chopped onion over a low heat for five minutes, stirring often until beginning to soften.

Stir the garlic, olives and crushed juniper berries into the pan and cook for two minutes more, stirring. Add to the flame-proof casserole with the meat and pour over the wine.

Stir in the tomatoes, tomato purée and 500ml/18fl oz cold water. Crumble over the stock cube, add all the herbs and the sugar and bring to a simmer.

Stir well, cover loosely with a lid, reduce the heat to low and leave to simmer very gently for 2½ hours, or until the boar is completely tender and falling apart.

Remove the lid every now and then and stir. If the liquid reduces too much, add a little extra water. The sauce should be fairly thick when you are finished, but not at all dry. Remove the thyme and rosemary stalks and bay leaves. Season to taste with salt and pepper.

Toss the ragù with freshly cooked pappardelle pasta and sprinkle with a few parmesan shavings to serve.
Related Recipes
See more ragu recipes (14)
See more boar recipes (5)
This recipe is from...
Recipes from this episode