Whole fish cooked in a banana leaf with mango chutney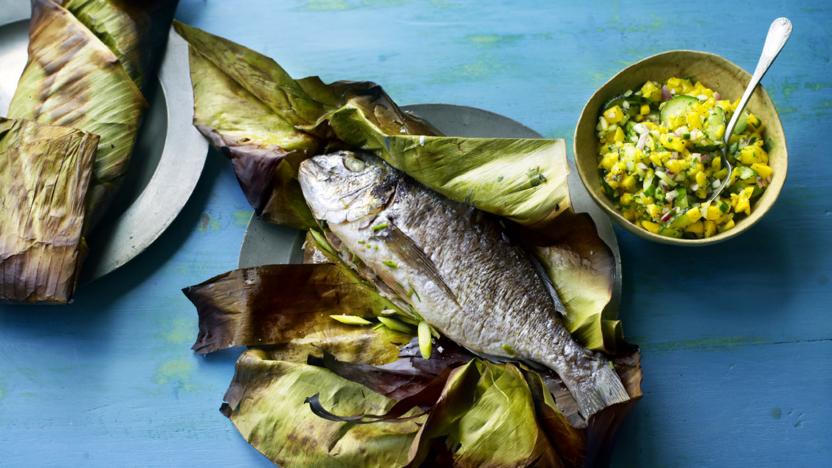 Preparation time
less than 30 mins
Cooking time
10 to 30 mins
Make fish special by cooking it in a banana leaf, and serve with a fast, flavourful chutney.
Preparation time
less than 30 mins
Cooking time
10 to 30 mins
Ingredients
For the fish
2 whole fresh fish (preferably sea bass or rainbow trout) weighing approximately 300g/10½oz each, gutted
1 spring onion, thinly sliced
large handful coriander stalks
2 x banana leaves or 2 large sheets of foil
fine sea salt, to season
For the chutney
Method
The fish can be cooked on the barbecue or in the oven. If cooking in the oven, preheat the oven to its highest temperature.

Stuff the fish with the onion and coriander stalks and season with sea salt. Wrap each fish in a banana leaf (or foil). Put on a tray and cook in the oven or on the barbecue for 12 minutes.

Meanwhile, for the chutney burn the garlic cloves in their skins on an open flame to chargrill them. When cool enough to handle, remove the garlic from their skins and finely chop.

Mix the onion, garlic, coriander, mango, lemon zest and mustard seed oil. Add the cucumber, crush it and mix to combine it into the chutney. Season with salt.

Serve the fish in the banana leaf with the chutney on the side.
Related Recipes
See more Nadiya recipes (12)
See more fish recipes (14)
This recipe is from...
Recipes from this episode