White chocolate bread and butter pudding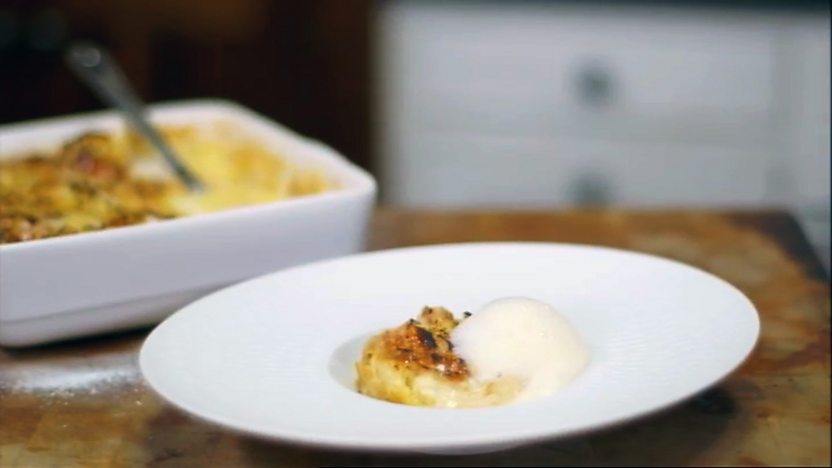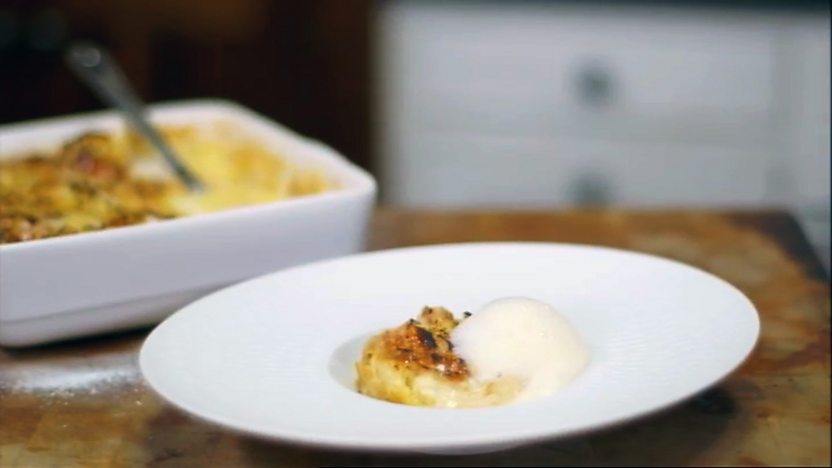 All-butter croissants are used instead of bread for an indulgent take on this old fashioned pudding.

Equipment and preparation: for this recipe you will need an ice cream maker and a stick blender.
Ingredients
For the whisky ice cream
For the pudding
For the honeycomb foam
Method
For the ice cream, put the cream and milk in a saucepan with the vanilla pod (reserve the seeds for the pudding) and bring to a simmer.

Whisk the egg yolks and sugar together in a bowl.

Add the whisky to the hot cream and bring to a simmer then pour it over the eggs and whisk to combine. Return the mixture to the pan and heat until thick enough to coat the back of a spoon.

Strain and reserve the vanilla pod for making the pudding. Pour into an ice cream maker and churn following the manufacturer's instructions. Freeze until needed.

For the pudding, preheat the oven to 180C/350F/Gas 4.

Lay the croissants in an ovenproof dish with the sultanas layered in between, then dot with the softened butter.

Place the cream, milk and reserved vanilla pod and seeds in a saucepan. Bring to the boil, add the chocolate and whisk until melted.

Place the eggs, egg yolks and sugar in a bowl and whisk to combine. Pour the hot chocolate custard through a sieve over the eggs and whisk to combine. Add the whisky and mix. Ladle it through a fine sieve over the croissants and set aside for 15-20 minutes to soak.

Cover with aluminium foil and place in the oven for 25-30 minutes, or until golden-brown and the custard is just set.

Remove from the oven and dust with icing sugar. Use a blowtorch or place under the grill to caramelise.

For the foam, place the milk, honeycomb and lecithin into a small saucepan and bring to the boil, then froth with a stick blender until foaming.

To serve, place a slice of the pudding in the centre of the serving plates with some of the sauce from the dish, top with a scoop of ice cream and a spoonful of foam.