Whisky mustard crusted pork chop with sautéed potatoes
Preparation time
less than 30 mins
Cooking time
10 to 30 mins
Give pork some added flavour and texture with a tasty whisky mustard crumb.

Preparation time
less than 30 mins
Cooking time
10 to 30 mins
Ingredients
For the whisky mustard pork chops
For the sautéed potatoes
Method
Preheat the oven to 200C/400F/Gas 6.

Heat the whisky, honey, lemon juice and water into a saucepan and heat until the honey dissolves.

Stir in the mustard seeds and cook for 1-2 minutes, or until most of the liquid has been absorbed.

Blend the mixture in a food processor until creamy (this will take a few minutes).

Sprinkle the breadcrumbs onto a plate.

Brush the pork chop on one side with the mustard mixture and dredge in the breadcrumbs. Spoon the remaining mustard into a small bowl and set aside.

Heat the olive oil and butter in an ovenproof frying pan until hot. Fry the pork chops for 2-3 minutes on each side, or until golden-brown on each side.

Transfer to the oven for 6-8 minutes, or until the pork is cooked through. Remove from the oven and set aside to rest.

For the sautéed potatoes, heat the olive oil and half of the butter in a frying pan until hot. Fry the potatoes for 4-5 minutes, or until golden-brown and tender. Add the garlic and rosemary and season, to taste, with salt and freshly ground black pepper.

Heat the remaining butter in a frying pan, add the spinach and water and cook for 2-3 minutes, or until the spinach has wilted.

To serve, spoon some potatoes onto each of 4 serving plates, top with a pork chop and spoon some spinach alongside. Serve with the remaining mustard.
This recipe is from...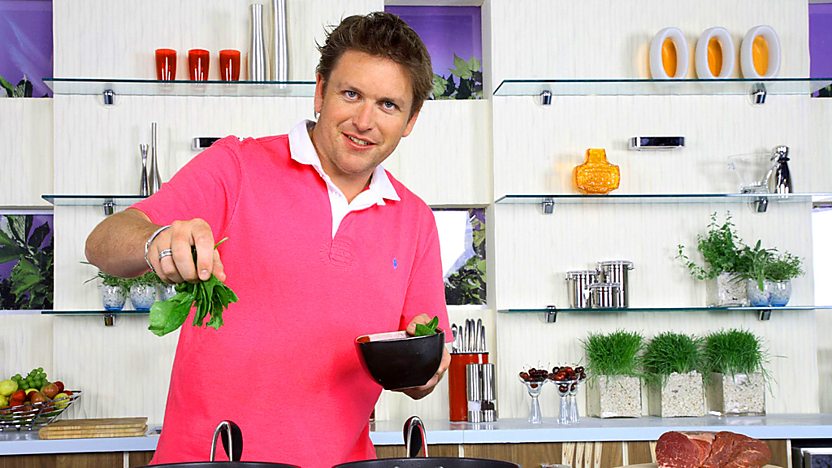 2007-16
226. 27/03/2016
Recipes from this episode