Whisky shortbread ding dangs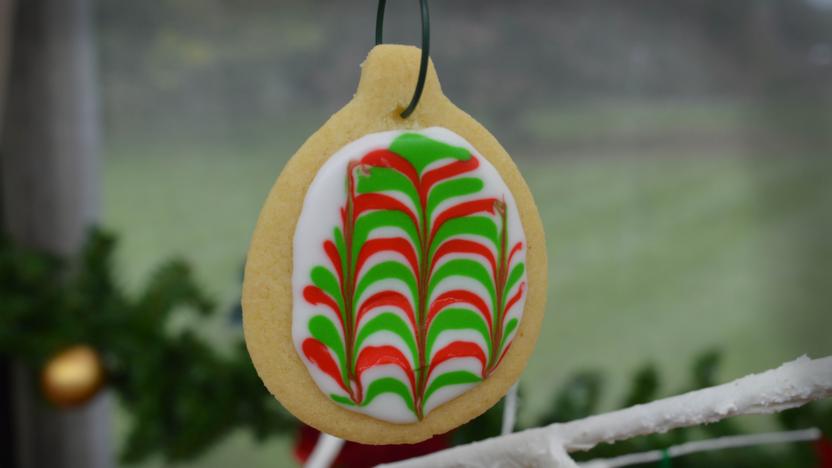 Preparation time
less than 30 mins
Cooking time
10 to 30 mins
Serves
Makes 12 large biscuits
Norman made these oaty, iced shortbread biscuits to hang on the Christmas tree, but the plain biscuits are delicious and need no ornament.

For this recipe you will need a food processor and to ice the biscuits you will need a hand-held electric mixer, cocktail sticks and 3 disposable piping bags fitted with fine plain nozzles.
Preparation time
less than 30 mins
Cooking time
10 to 30 mins
Serves
Makes 12 large biscuits
Ingredients
For the royal Icing
Method
For the shortbread, put the butter and sugar in a mixing bowl and cream together until soft and fluffy. Add the flour, salt, semolina, oats and whisky. Mix to a dough and chill in the fridge for 15 minutes.

Dust a work surface with rice flour and roll the dough out to 4mm thickness. Using a biscuit cutter or a template cut into 12-15 large biscuits (the exact number will vary depending on the shape). Chill in the fridge for 15 minutes.

Preheat the oven to 170C/150C Fan/Gas 3½.

Place biscuits on lined baking trays or mesh baking sheets and bake for 15 minutes, do not allow to 'brown'. Leave to cool on wire racks.

For the royal icing, put the water and meringue powder in the bowl of a food mixer, and mix for a minute. Add the cream of tartar and mix for 45 seconds. Slowly add the icing sugar and beat for 10 minutes on a slow speed (you may find it beneficial to drape a damp towel over the bowl when adding the icing sugar as it gets everywhere!).

Put a quarter of the icing into a small bowl and add the green gel food colour. In a separate bowl colour another quarter of the icing red. This leaves you with half the icing still white. Put the green and red icing into separate piping bags fitted with fine plain nozzles. Put a third of the white icing into a piping bag fitted with a plain nozzle.

Pipe a circle of white icing on the surface of each biscuit quite close to the edge and leave to set. Using a teaspoon, fill the circle with the remaining white icing (if the white icing is a bit too thick to spread on the biscuits, add a drop of water, but be careful not to make it too runny). Before the white icing sets, pipe thin alternating lines of red and green icing across. Using a cocktail stick, drag the icing in the opposite direction to the red and green lines to create a feather effect. Leave to set.

If you want the biscuits to hang on a Christmas tree, use a cocktail stick to pierce a hole near the top and push some thread or fine ribbon through.
Recipe Tips
To make the biscuits extra crisp and get a pretty pattern on the back use mesh baking sheets.
Related Recipes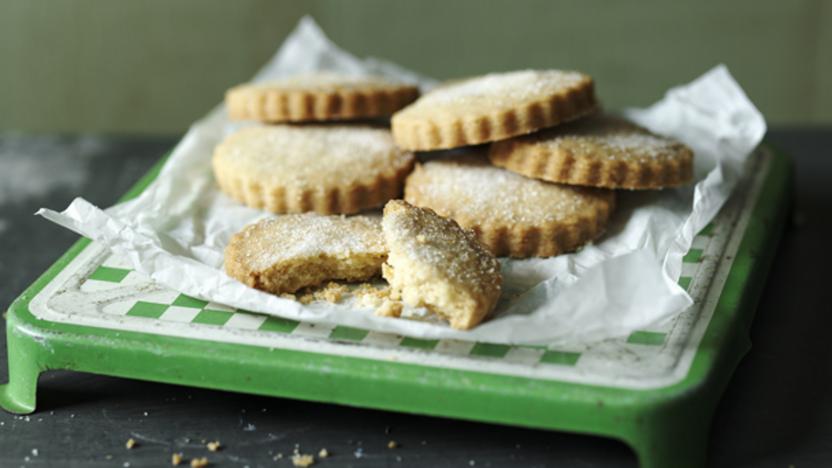 See more shortbread recipes (21)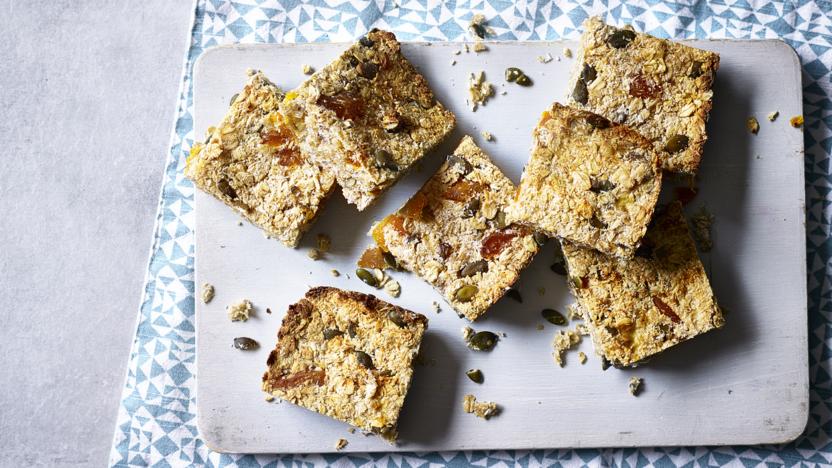 See more oats recipes (119)