Warm potato salad with shallot dressing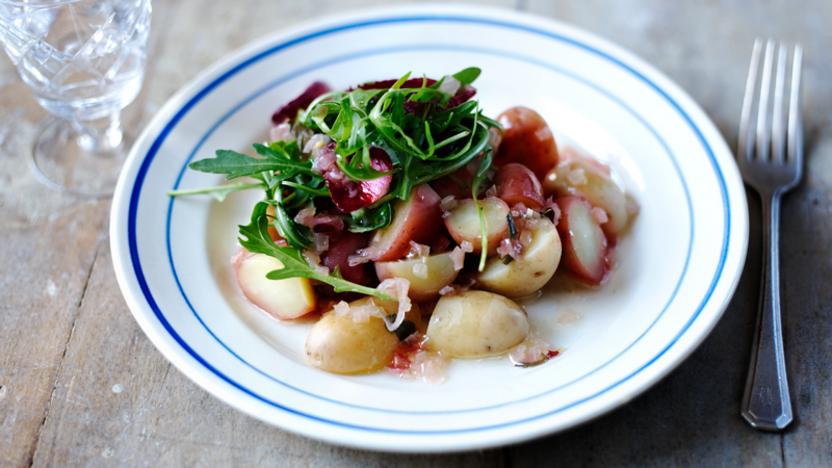 Forget gloppy mayonnaise - this German-style potato salad is tangy with shallot and white wine vinegar.

Each serving provides 530kcal, 6g protein, 48g carbohydrate (of which 6g sugars), 33g fat (of which 5g saturates), 6g fibre and 0.1g salt.

Method
Place the potatoes into a pan of salted boiling water and cook for 15 minutes or until tender when pierced with the tip of a knife. Drain and leave to cool for 2-3 minutes.

Heat 10ml of the olive oil in a pan and fry the shallot for a few minutes until soft and transparent. Add the vinegar. Cook until it has reduced by half. Remove the pan from the heat and add the remaining olive oil and the thyme leaves.

To serve chop the potatoes and scatter on a large plate. Dress the salad leaves with a little of the shallot dressing and drizzle the remainder over the potatoes. Place the salad leaves on top of the potatoes.
Recipe Tips
If you can't get hold of the three types of potatoes mentioned, just use any three providing they are slightly different in colour. The same goes for the vinegar - simple white wine vinegar will also work in the dressing.
Related Recipes
See more Barbecue side dish recipes (30)
See more potato salad recipes (19)