Warm chocolate cakes with clementine sweet cheese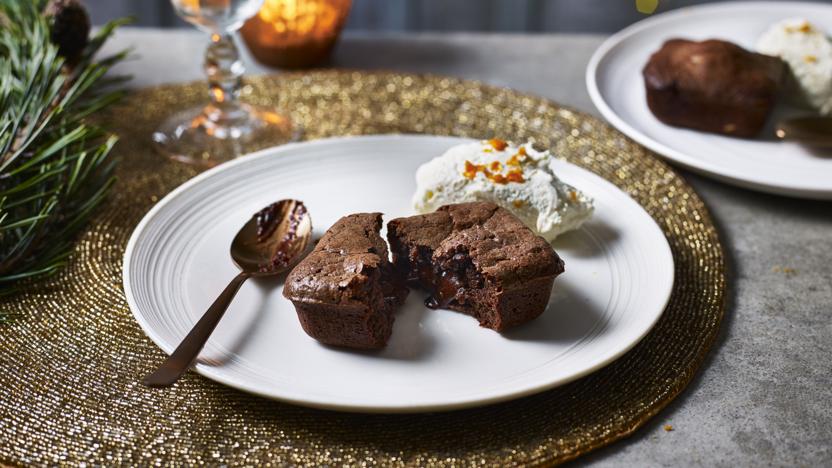 If you have time, make the mixture for the chocolate cakes the day before so that the mixture has time to rest in the fridge. Any excess clementine sweet cheese can be stored in the fridge for a few days to serve with other desserts or with fruit.

Equipment and preparation: You will need 8 x 6cm/2½in square moulds or 7cm/2¾in round chef's rings.
Ingredients
For the chocolate cakes
For the clementine sweet cheese
Method
In a mixing bowl, add the egg yolks, whole eggs and sugar. Use the paddle attachment on your mixer and combine the ingredients at a slow speed setting. Alternatively, mix using the slow setting on a handheld mixer.

Place an inch of water in a large saucepan and sit a heatproof mixing bowl on top (the bowl should not touch the water). Place the pan on the heat. Once the water is simmering gently, add the chocolate and butter to the bowl and allow to melt gently. Mix to combine and set aside to allow to cool a little.

Once the melted chocolate is cool, stir it into the egg and sugar mixture gently (if the chocolate is too hot it will cook the eggs and cause them to scramble). Gently fold in the flour until fully combined and smooth. Ideally make this mixture the day before use and allow to rest in the fridge.

Meanwhile, make the clementine sweet cheese. Whip the cream in a bowl until soft peaks form when the whisk is removed. Put all the remaining ingredients, except the orange liqueur, into another mixing bowl. Mix until smooth and well combined. Fold this mixture into the whipped cream, and fold in the orange liqueur. Whip until firm enough to hold its shape. Chill until ready to serve.

When ready to bake the cakes, preheat the oven to 180C/160C Fan/Gas 4.

Take your moulds or rings and brush the insides with soft butter, place them in the fridge to set for a few minutes, then brush with more butter and chill again.

If using chef's rings, place them on baking trays lined with baking paper. Fill the moulds or rings with the cake batter (approximately 80g/2¾oz each).

Bake for 10 minutes, or until the top is set – if it is not, return the cakes to the oven for a few minutes. Rest for 2 minutes, then use a small knife to release the cakes from their moulds or rings. Serve with a generous dollop of clementine sweet cheese.
This recipe is from...
Recipes from this episode