Walnut-crusted pork chops with figs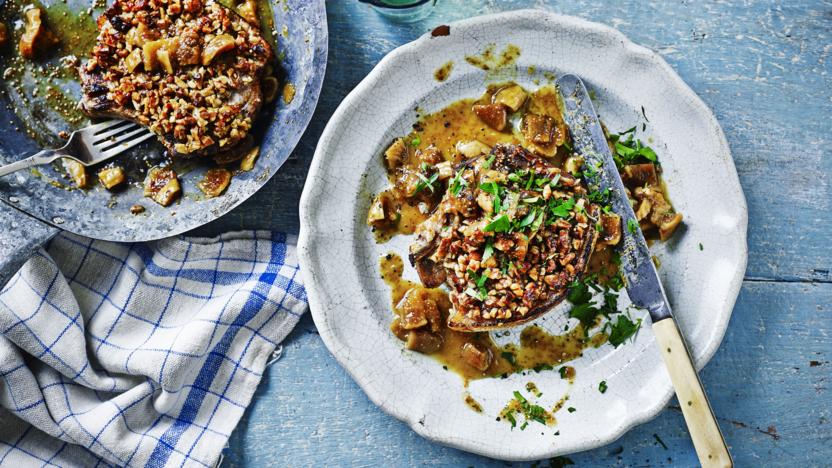 Preparation time
less than 30 mins
Cooking time
30 mins to 1 hour
For a true taste of Croatia try this wonderful pork with a walnut crust. Making your own sauce with figs brings some extra flavour.
Preparation time
less than 30 mins
Cooking time
30 mins to 1 hour
Method
Season the pork chops with salt and pepper and score the flesh with a sharp knife.

In a shallow roasting tin, mix the cinnamon, nutmeg and walnuts. Add the olive oil to make a paste. Roll the chops in the nuts, pushing the crumb into the flesh.

Melt 40g/1½oz of the butter in a large non-stick lidded frying pan and brown the chops two at a time, being careful not to burn the walnuts. This will take a few minutes each side.

Return all the chops to the pan, cover with a lid and cook for 10 minutes over a medium heat, or until cooked through. Transfer the pork chops to a warmed plate and cover with foil to keep warm.

Deglaze the pan with the white wine, continue to cook until the volume of the liquid has reduced by half. Add the chopped figs and chicken stock, season to taste. Whisk in the remaining butter, the parsley and lemon juice.

Serve the pork chops with the sauce spooned over.
Related Recipes
See more Luxury weeknight meals recipes (90)
See more pork chop recipes (31)
This recipe is from...
Recipes from this episode