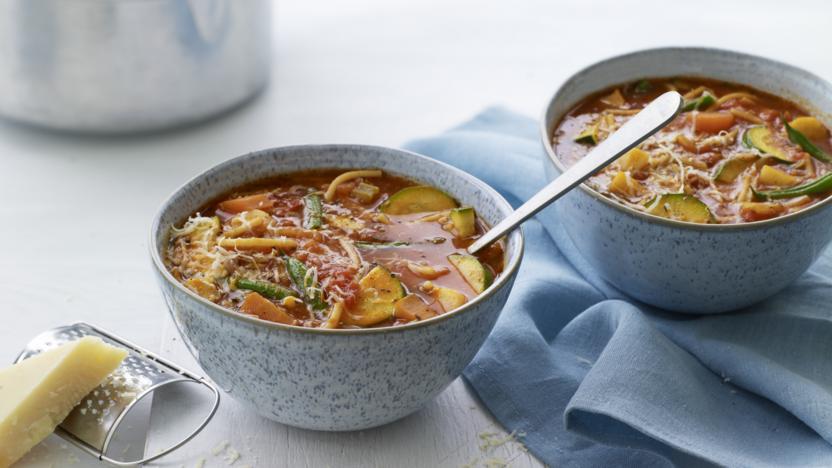 Once you've made the base of this vegetable soup, you can add anything you like. A mixture of root and green vegetables work well, added at different stages. You can even add leftover cooked or frozen vegetables.


Method
Heat the oil in a large saucepan and gently fry the onion for 5 minutes, or until softened and very lightly browned, stirring regularly. Add the garlic and cook for a few seconds more, stirring.

Tip the tomatoes into the pan, add the tomato purée and oregano and simmer for 2–3 minutes, stirring frequently.

Add 1.2 litres/2 pints of water (you can fill the empty can of tomatoes with cold water three times so you don't have to use a measuring jug) and crumble over the stock cube.

Bring the soup to a simmer, then add any vegetables you like. Add root vegetables first and cook for 10 minutes, before adding the raw green vegetables such as beans or courgettes and cook for 5 minutes. Cooked or frozen vegetables should be added for the last 3 minutes of cooking. Stir regularly and add extra water if needed.

Season with salt and pepper to taste. Serve in deep bowls topped with grated cheese if you like.
Recipe Tips
You can also add tiny pasta shapes, such as orzo, to the soup while simmering, to make it even more filling.