Venison Wellington with caramelised onions and port jus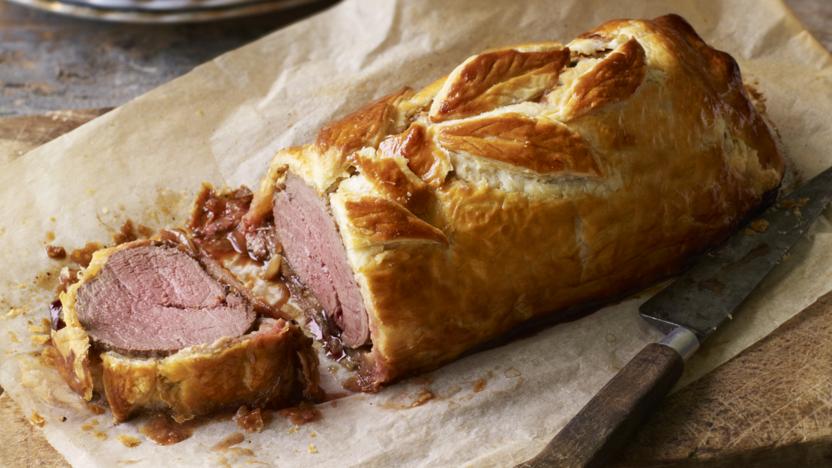 An irresistible venison Wellington that will really stop the show. Mary Berry shows you how to ensure a pink, juicy inside and crisp puff pastry on the outside.


Method
Heat the oil in a large frying pan over a high heat. Season the venison with salt and pepper and fry for about 20 seconds on each side, or until sealed and golden-brown but not cooked. Remove and set aside to cool.

Reduce the heat to low, add the onions to the pan and fry for few minutes. Cover with a lid and cook for 15–20 minutes, or until soft and golden.

Remove the lid and fry for a minute to drive off any liquid. Remove half the onions with a slotted spoon and set aside (this will be used for the gravy later). Add the sugar, vinegar and thyme to the onions and cook for 5 minutes, or until sticky. Leave to cool completely.

Roll the pastry out on a lightly floured work surface until it is very thin – about 25x35cm/10x14in. Trim the edges to neaten. Brush the surface of the pastry with the mustard, sit the browned fillet in the centre and spoon over the sticky balsamic onions.

Fold up the ends and bring over the sides, trim any excess if there are double layers of pastry, and brush with beaten egg. Use the pastry trimmings to cut out three leaves and arrange in the centre of the Wellington, then glaze them with egg. Chill in the fridge for 1 hour, along with any remaining beaten egg.

Preheat the oven to 220C/200C Fan/Gas 7. You will need a large baking tray lined with non-stick baking paper preheated in the oven so that it is piping hot.

Brush the Wellington with the remaining beaten egg. Sit it on the hot baking tray and roast for 20–25 minutes, or until golden-brown. Leave to rest for 5–10 minutes before carving.

Meanwhile, to make the sauce, fry the reserved cooked onion in a saucepan over a high heat for 1 minute. Sprinkle in the flour, and stir. Add the hot stock, fruit jelly and port. Bring to the boil, stirring, and cook for 5 minutes, or until reduced and thickened.

Strain the sauce through a sieve, return it to the pan, season with salt and pepper, and cook for a few more minutes, until it has a coating consistency. Add more salt and pepper if necessary.

Carve the venison into very thick slices and serve with the port sauce.
Recipe Tips
Carefully smooth the pastry over the filling to prevent air getting trapped between the pastry and meat.
This recipe is from...
Recipes from this episode