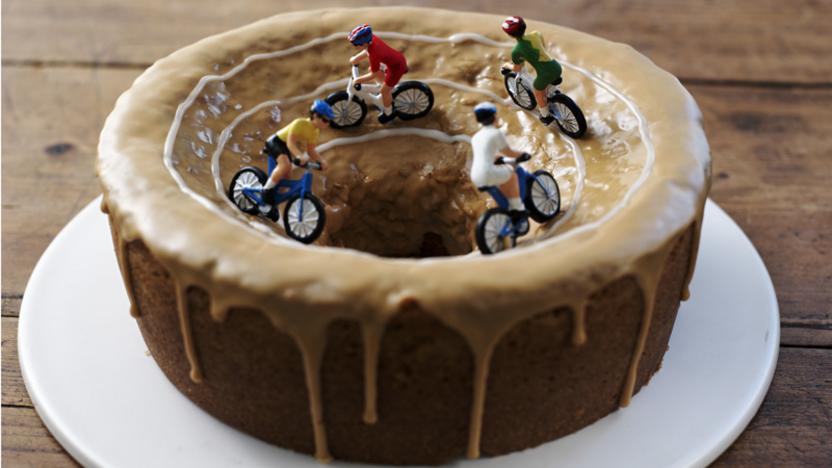 Take gold in cake-baking with this stunning re-creation of the velodrome in cake - cycling fans will be delighted.
Ingredients
For the cake:
For the coffee icing
For the white icing
Method
Thoroughly grease and line the base of a 24cm/10in savarin tin. Preheat the oven to 180C/350F/Gas 4.

Cream the butter and sugar together in a bowl until pale and fluffy. Beat in the eggs, a little at a time, and stir in the espresso. Fold in the flour using a large metal spoon.

Spoon the mixture into the prepared tin and level with a back of spoon or spatula. Bake in the oven for 40-45 minutes or until a skewer inserted into the cake comes out clean. Check the cake after 30 minutes and if you feel the cake is taking on too much colour before it is ready cover it with parchment paper or foil.

Leave to cool in the tin. When cool enough to handle gently ease out of the tin.

When the cake is completely cold. Using a knife to make small surface cuts, mark a circle on the top of the cake about 2cm from the inside edge. Also mark a line inside the inner edge about 3cm down from the top. Now carefully cut from one mark to the other to create a slope.

To make the coffee icing, mix the sifted icing sugar with the coffee and beat until smooth. The icing consistency needs to be thick enough to coat the back of the spoon. If it's too thin add a little more sifted icing sugar, if it's too thick add a few more drops of water. Remember to do it little by little.

When you are happy with the consistency of the icing, start to cover your cake. You want to completely cover the inside edge but only have drizzles on the outside. Once the coffee icing is set, make the white icing in the same way as above. Spoon into a piping bag and pipe three lines around the inside edge to represent the lanes.

Buy a few cyclist or runner figurines (available online) and fix on a slight angle to represent the speed of the velodrome.
Recipe Tips
Alternatively, cut the top of the cake flat and use runner or hurdler figurines.
Related Recipes
See more Birthday cake recipes (41)
See more cake recipes (104)