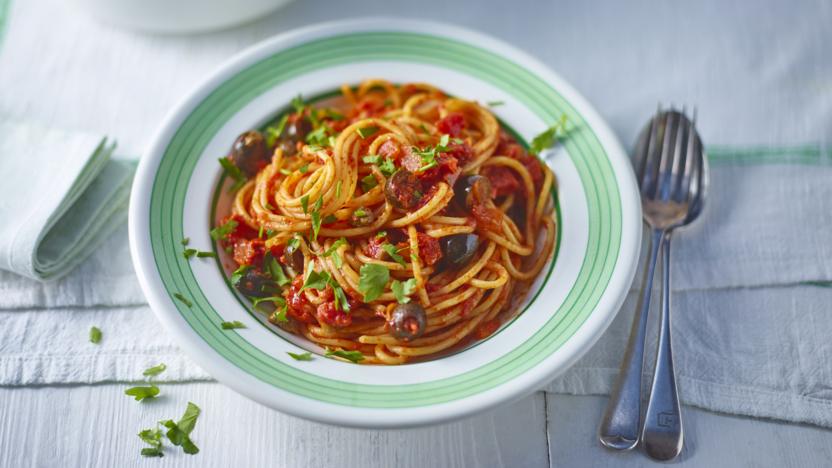 This budget vegetarian take on classic Italian puttanesca sauce is a store-cupboard saviour.

If you're making this recipe to serve two, cook half the pasta and freeze half the cooked sauce. Each serving provides 504kcal, 12g protein, 65g carbohydrate (of which 12g sugars), 17g fat (of which 2.5g saturates), 7g fibre and 1.4g salt.
Method
Heat 3 tablespoons of the oil in a large, non-stick saucepan over a medium heat. Add the onions and garlic and fry gently for 4-5 minutes, stirring regularly, until softened and very lightly browned.

Stir in the olives, capers, chilli flakes and salt, then add the tinned tomatoes and red wine (or stock). Bring the mixture to the boil, then reduce the heat until the mixture is simmering. Simmer very gently for 40-45 minutes, stirring regularly, until the sauce has thickened.

Once the sauce has been cooking for 30 minutes, half-fill a large saucepan with boiling water. Add the spaghetti and cook according to the packet instructions, until al dente.

When the pasta is cooked to your liking, reserve 3 tablespoons of the cooking water in a bowl, then drain the pasta in a colander and return it to the saucepan.

Add half of the sauce to the cooked spaghetti, then stir in the reserved cooking water. Continue to stir the mixture carefully until the spaghetti is coated in the sauce. Season, to taste, with freshly ground black pepper.

To serve, transfer the spaghetti and sauce to a warmed serving dish, then pour over the remaining sauce. Drizzle over the remaining tablespoon of oil and garnish with the parsley, if using. Serve immediately.
Recipe Tips
Tip 1: To freeze the sauce, let it cool in the fridge and then freeze for up to 2 months in portion sized containers.
Tip 2: Cooking the tomato sauce for the full 45 minutes really intesifies the flavours in it, so try not to rush this dish. If your sauce becomes too thick before the end of the cooking time, add a dash of boiling water and continue cooking.
Tip 3: Use any shaped pasta you like for this recipe - just make sure you keep the quantities the same.
Tip 4: It's easy to turn this recipe into a supper for two by halving the ingredients. Add 300ml/10½fl oz of cold water to the sauce before simmering, so that there is enough liquid to keep it from drying out during the cooking time.
Tip 5: This recipe can be made ahead of time, then reheated in a covered dish in the microwave.