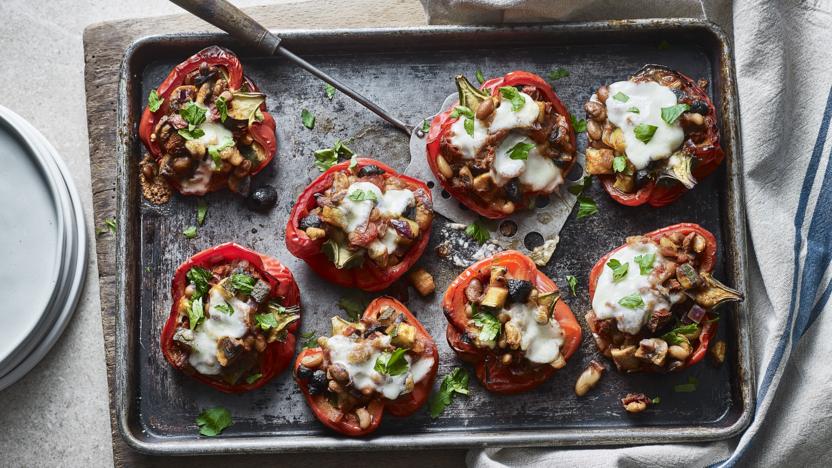 These veggie stuffed peppers are full of colour and flavour for a satisfying vegetarian midweek meal – the perfect option if you're trying to eat less meat.

Each serving provides 464 kcal, 16g protein, 37g carbohydrates (of which 17g sugars), 25g fat (of which 5.5g saturates), 14g fibre and 2.4g salt.
Method
Preheat the oven to 200C/180C Fan/Gas 6.

Put the peppers on a large baking tray, cut side up. Roast for 20–25 minutes or until they start to blister. Remove from the oven and set aside.

While the peppers are roasting, heat the oil in a large pan and cook the onions and garlic for about 5 minutes until softened but not browned.

Add the mushrooms, courgette and tomatoes, together with the cayenne pepper, paprika, salt and pepper, and fry for 5 minutes until the mushrooms soften.

Finally, add the mixed beans, black olives and sun-dried tomatoes. Stir well, reduce the heat to low, and simmer for about 5 minutes.

Spoon the vegetable mixture into the roasted peppers, filling them generously. Sprinkle with mozzarella. Put the peppers back in the oven for 3–5 minutes, until the cheese starts to brown and melt.

To serve, sprinkle the peppers with freshly chopped herbs.