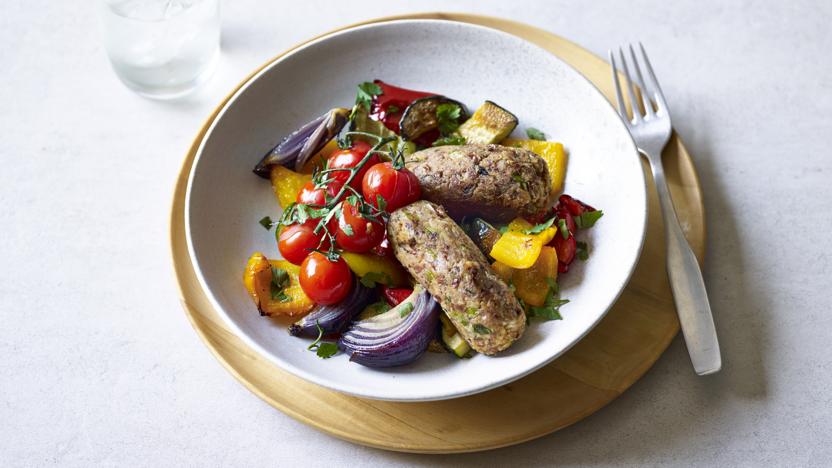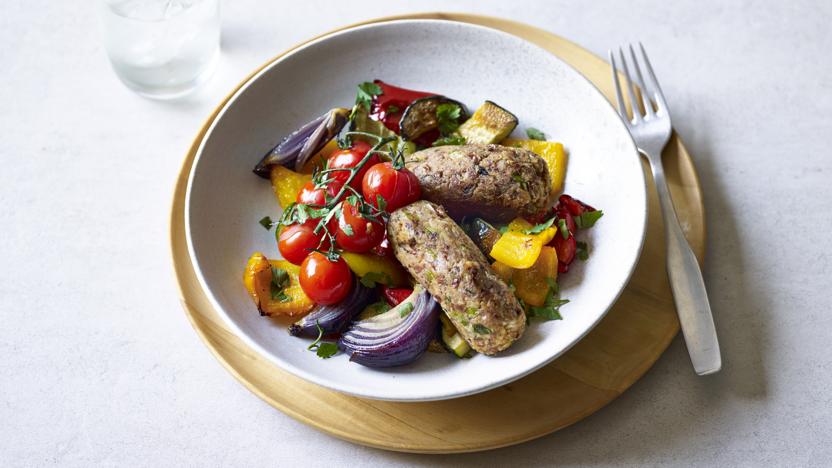 Homemade vegan sausages may take a little longer to make than shop-bought, but you'll be so glad you made the effort.

Each serving provides 541 kcal, 18g protein, 44g carbohydrates (of which 18g sugars), 29g fat (of which 3.5g saturates), 16g fibre and 1.7g salt.
Ingredients
For the veggie sausages
For the roast vegetables
1 red pepper, deseeded and cut into chunks
1 yellow pepper, deseeded and cut into chunks
1 red onion, cut into thin wedges
1 large courgette, halved lengthways and thickly sliced
1 tbsp extra virgin olive oil
200g/7oz cherry tomatoes on the vine
finely chopped flatleaf parsley (optional), to garnish
salt and freshly ground black pepper
Method
Preheat the oven to 200C/180C Fan/Gas 6.

To make the veggie sausages, heat 1 tablespoon of the oil in a large frying pan and fry the mushrooms for 3–4 minutes, or until lightly browned, stirring regularly.

Add the spring onions and garlic and cook for 1–2 minutes, or until softened. Sprinkle over the paprika and cook for a few seconds, then stir in the oats and tip onto a plate. Leave to cool for 10 minutes.

For the roast vegetables, put the vegetables on a large baking tray. Drizzle over the oil, season with salt and pepper and toss together. Roast for 15 minutes.

Put the beans in a food processor with the ground almonds and miso paste. Add the mushrooms mixture, salt and lots of ground black pepper. Blend until the mixture comes together to a stiff paste, removing the lid and pushing the mixture down 2–3 times with a spatula until the right consistency is reached. Adjust the seasoning to taste. Divide the mixture into eight even pieces and roll into sausage shapes.

Heat the remaining oil in the same frying pan used for frying the mushrooms and cook the sausages for 4–5 minutes over a medium–high heat, turning regularly, until nicely browned. (Set aside four of the sausages to cool, and refrigerate or freeze for another recipe.)

Take the baking tray out of the oven, turn all of the vegetables, add the remaining four sausages and the tomatoes and cook for a further 15 minutes, or until all the vegetables are softened. Scatter with chopped parsley, if you like, and serve. (Also delicious cold, or at room temperature, for lunch the next day.)
Recipe Tips
These sausages freeze well for up to a month and can be cooked from frozen - just extend the cooking time by a few minutes.
Related Recipes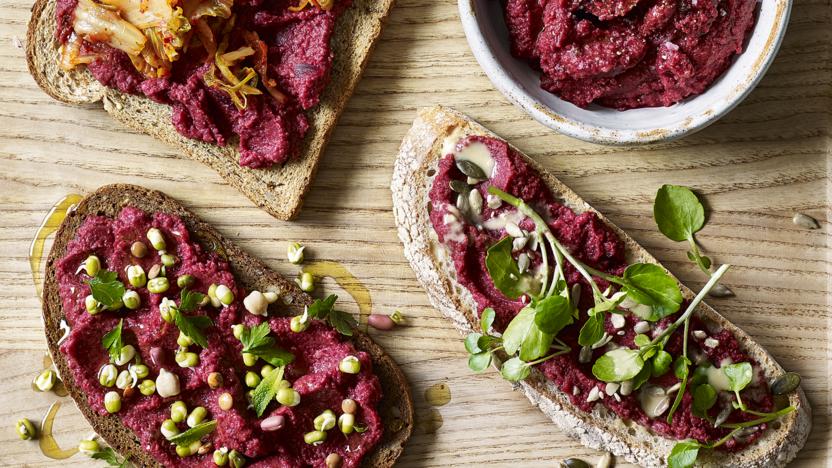 See more Eat the rainbow recipes (38)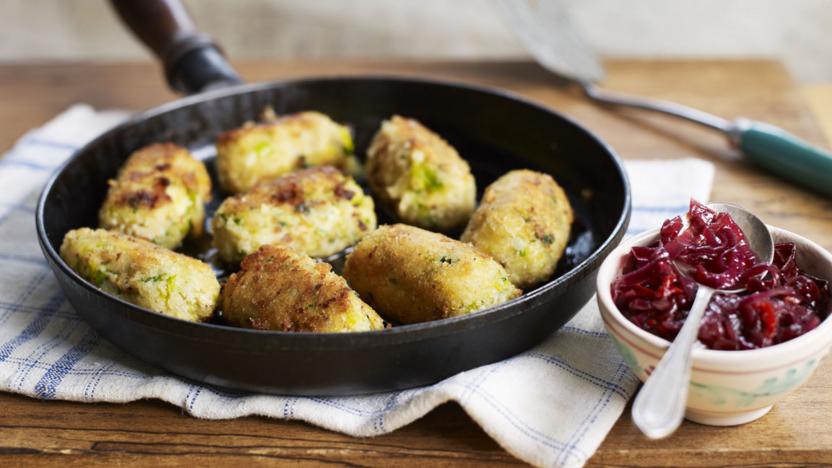 See more vegetarian sausage recipes (3)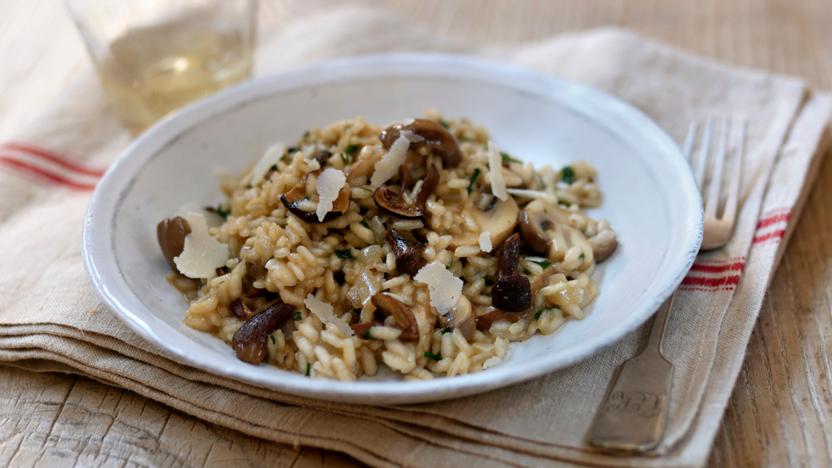 See more chestnut mushroom recipes (122)
This recipe is from...
Recipes from this episode