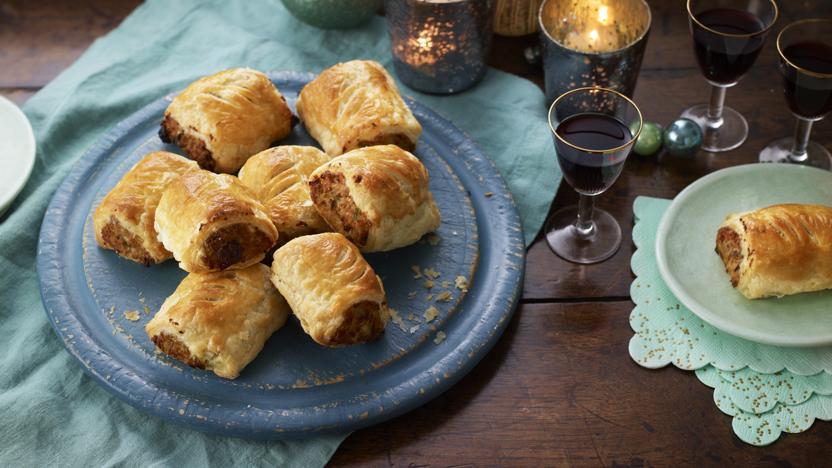 You'll have to defend these gorgeous vegetarian sausage rolls from the meat eaters. Easy to make and keep in the fridge for an instant party. These are packed with savoury cheesy stuffing and cranberries.
Method
Preheat the oven to 200C/180C Fan/Gas 6. Line two baking trays with baking paper.

Whizz the bread in a food processor until you have fine breadcrumbs. Transfer to a mixing bowl.

Melt the butter in a frying pan over a medium heat. Add the leeks and gently fry for 4–5 minutes. Add half the sage and thyme and fry for 2 minutes, or until softened but not coloured. Add the leeks to the breadcrumbs and season with salt and pepper.

In a separate bowl, whisk together three eggs, add the cheeses and remaining sage and thyme, season with salt and pepper. Tip into the breadcrumb mixture and mix well. Using your hands, form the mixture into two even-sized balls. Roll these balls between your palms into two 30cm/12in-long sausages.

Roll out the pastry on a lightly floured surface until you have a 30x30cm/12x12in square. Cut the square in half lengthways to form two rectangles. Lay one of the sausages down each rectangle. Sprinkle over the cranberries. Take the first rectangle and fold one side up over the filling. Brush beaten egg down the other edge and fold it over the top and press lightly to seal the join. Repeat with the second rectangle of pastry.

Turn the two long sausage rolls seam-side-down. Using a sharp knife, cut each length of pastry into eight even-sized sausage rolls. Make two small slits in the top of each one, taking care not to cut right through. Brush all the sausage rolls with beaten egg, then place on the prepared trays.

Bake for 30 minutes, or until golden-brown and cooked through.
Recipe Tips
Strong vegetarian cheeses such as mature cheddar, aged gouda, pecorino or a salty ewe's cheese all work in these vegetarian sausage rolls.