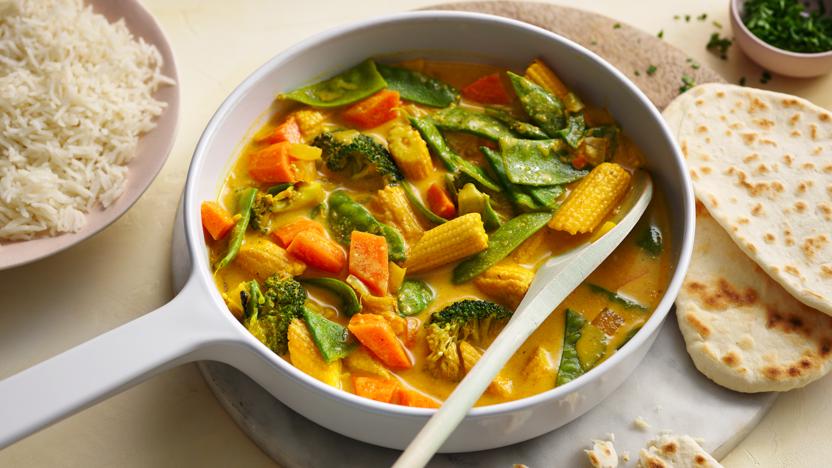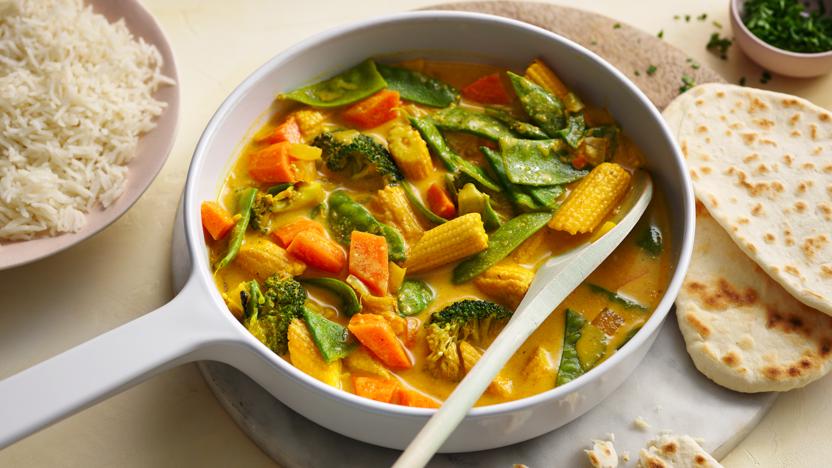 Vegetable kormas can be quick, easy, cheap to make. Kerry makes easy naans with her children to go with the lovely, mild veggie curry.

Each serving provides 479 kcal, 17g protein, 82g carbohydrates (of which 12g sugars), 7g fat (of which 4g saturates), 8g fibre and 2g salt.
Ingredients
For the curry paste
For the naan breads
Method
Place the rice into a cup, take note of where the rice comes up to and tip into a large saucepan (it might be the whole cup). Fill the same cup with water up to the noted line and tip into the saucepan, repeat once more. Bring to the boil, cover then simmer for 10 minutes, then turn the heat off completely, leaving the lid on.

Put the coconut oil into a pan and fry the onion, garlic and ginger. Add the chopped vegetables.

For the curry paste, mix all the ingredients together with 200ml/7fl oz boiling water in a jug. Pour into the pan with the yoghurt. Season with salt and pepper. Stir well place a lid on the pan and simmer for 10 minutes over a low heat.

For the naan breads, mix all the ingredients together in a bowl and roll into a ball. Split into four and roll out into oval shapes on a floured, clean surface. Dry-fry (no oil) the naans for a few minutes, or until golden-brown. Serve the curry with the naan and rice.
Recipe Tips
This recipe isn't too spicy, so if your family likes a bit of heat, add a bit of chilli powder, or use a hotter curry powder.
If you want to add meat, chop it into chunks and fry until golden-brown before step 2. Add it into the sauce in step 3 and simmer for 10 minutes before serving with the naan and perfect rice.