Veggie dippers with chilli dip and aioli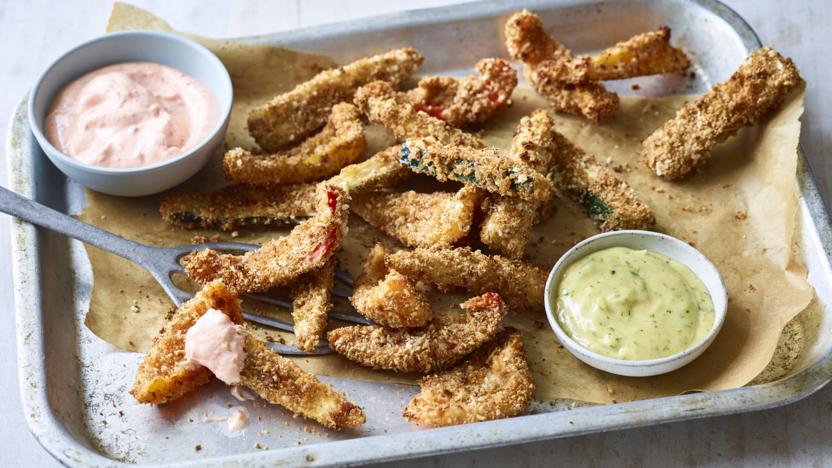 These veggie dippers from Eat Well for Less are a tasty way to get extra veg into the family. You can use broccoli florets or green beans if you prefer.

Each serving provides 266 kcal, 15g protein, 24.5g carbohydrate (of which 9g sugars), 10.5g fat (of which 2.5g saturates), 6.5g fibre and 1.6g salt.
For this recipe you will need a food processor.

Ingredients
For the cheat's quick aioli (optional)
For the dippers
For the chilli sauce (optional)
Method
Preheat the oven to 220C/200C Fan/Gas 7. Line two large baking trays with baking paper.

If making the aioli, wrap the garlic in kitchen foil then roast for 30 minutes.

To make the dippers. Put the bread, onion granules, paprika and Parmesan in a food processor and blitz until the mixture forms fine breadcrumbs. If you don't have a blender, you can grate the bread and mix with the spices and cheese. Place into a wide, shallow bowl.

Tip the flour into a second wide, shallow bowl and crack the eggs into a third. Season the flour with plenty of black pepper, then beat the eggs.

Tip the sliced vegetables, a few at a time, into the flour and toss to coat fully, then dredge in the egg and coat in the breadcrumbs. Make sure that each piece of vegetable is fully coated. Repeat with the remaining veg until they are all coated in each layer. Place onto the trays in an even layer, leaving a little space between each one. (If necessary, spread onto a third tray rather than overcrowd them.) Bake for 10 minutes if you like your veg with a little bite, 12 minutes if you prefer softer veg.

If making the chilli sauce, blend the jalapenos, garlic, sugar and salt together with 50ml/2fl oz water. Tip the yoghurt into a bowl and stir in 40g/1½oz of the chilli sauce (about 2 heaped tablespoons).

To finish the aioli, remove the foil from the roasted garlic and allow to cool slightly. Cut the top from the bulb of garlic and squeeze the cloves out into a small bowl. Mash down well, then add the mayonnaise and beat until as smooth as possible. Stir in the lemon zest, parsley and black pepper. Tip into a small bowl.

Pile the crispy vegetables into a serving bowl and serve the chilli yoghurt and aioli alongside.
Recipe Tips
The aoili and chilli sauce recipes make enough for about 15 servings. Decant any leftovers into sterilised bottles or jam jars, then seal. Keep in the fridge for up to 1 month.