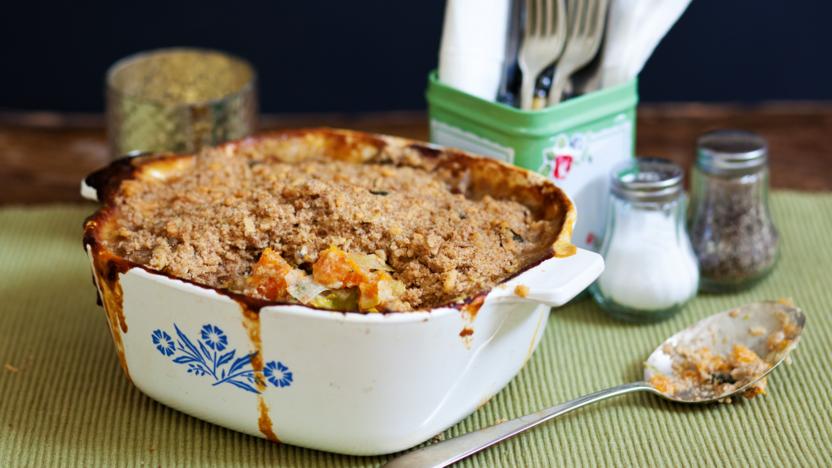 Less bother than a pie, vegetable crumble is a great way to use up what you have in the fridge, cupboard or freezer! You can change the filling with the seasons making green and summery fillings in the spring and summer and heartier root vegetable crumbles in the winter.
Ingredients
For the filling
For the crumble
For the sauce
Method
Adult's job: Preheat the oven to 200C/400F/Gas 6.

Kid's job: Chop or slice all of the vegetables into roughly equally sized pieces and set aside.

Kid's job: For the crumble, put the flour into a mixing bowl. Chop the butter into little lumps and add it to the flour. Using your fingers rub the flour and butter together. Keep going until it looks like breadcrumbs (a few lumps are ok!). Stir in the oats, cheese, pepper and seeds (if using). Set aside.

Adult's job: Meanwhile, heat a large saucepan and melt the butter until it bubbles slightly. Add the garlic and stir for a minute. Add the flour and stir well for another minute. The butter and flour will thicken and change colour slightly. Gradually add the stock or milk a little at a time, stirring as you pour. The sauce should thicken up and not be lumpy. If it is you will need to mix it really fast to get rid of any lumps.

Kid's job: Taste your sauce. (Careful - it's hot.) You may want to add some salt and pepper, grated cheese or just a squeeze of lemon juice.

Adult's job: Add the chopped fresh vegetables (but not any frozen ones) to the sauce and cook gently for five minutes, stirring often. Then add any frozen vegetables and any of the optional extras like cooked meat or tinned beans and stir through.

Adult's job: Pour the saucy vegetables into a 20cm/8in square baking dish and let it cool slightly.

Kid's job: Sprinkle the crumble all over the top of the vegetables. You should cover all of them up and have a nice thick crumble topping.

Adult's job: Place the dish onto a baking tray (to catch any spills) and bake in the oven for 30-40 minutes or until the crumble is golden-brown all over.

Adult's job: Remove the crumble from the oven and leave to cool slightly before serving.