Vegetable chilli with tortilla chips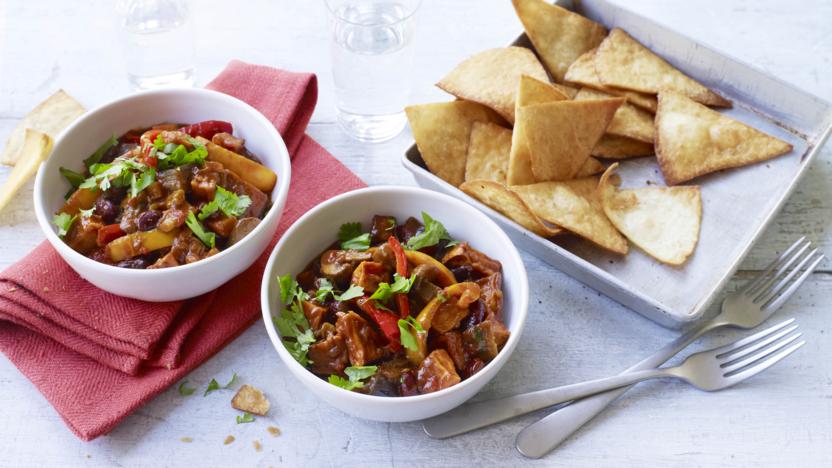 A marvellous vegetable chilli for all the family. Make ahead and it will taste even better the next day.

Omit the worcestershire sauce to make it vegetarian and vegan, and replace the flour tortillas for corn alternatives to make them gluten-free.
Ingredients
For the chilli
For the tortilla chips
Method
Preheat the oven to 200C/180C Fan/Gas 6.

Put the sweet potatoes in a large roasting tin and sprinkle with a teaspoon each of the chilli powder and paprika, and the cinnamon. Season and drizzle with half the oil. Roast for 20 minutes, or until tender.

Meanwhile, heat the remaining oil in a large saucepan over a low–medium heat. Fry the onions, celery and carrots gently for 10 minutes, or until softened. Add the garlic and chilli and fry for a minute before adding all the remaining vegetables. Cook for 10 minutes, or until everything is starting to soften.

Add the remaining chilli powder and paprika, the ground coriander, cumin and plenty of seasoning and cook for 1–2 minutes. Add the kidney beans, tomatoes, Worcestershire sauce, if using, Tabasco, red wine vinegar and stock. Bring to the boil, reduce the heat and simmer for 20–30 minutes.

Add the roast sweet potato and coriander stalks to the chilli and cook for 5 minutes.

Meanwhile, make the tortilla chips. Heat the oil in a deep saucepan until it reaches 180°C, or a cube of bread browns in 20 seconds. (CAUTION: hot oil can be dangerous. Do not leave unattended.)

Cut the tortillas into small triangles and deep-fry in batches for 1–2 minutes, or until crisp. Drain on kitchen paper.

Garnish the chilli with the coriander and serve with the tortilla chips and some cooked rice, if liked.
See more veggie chilli recipes (9)
See more chilli powder recipes (333)
This recipe is from...
Recipes from this episode