Vegetable curry with quick naan breads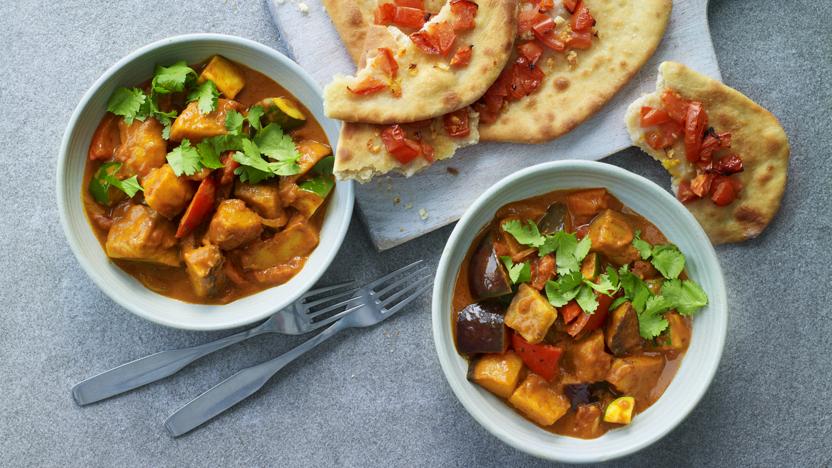 An easy veggie curry is just the thing for a midweek dinner. Serve with rice and save the naan breads for a weekend.

Ingredients
For the curry
For the naan bread
Method
To make the naan, place the flour, baking powder, salt, milk and oil in a large bowl and mix to form a smooth dough. Allow to rest for 1 hour.

Meanwhile, to make the curry, preheat the oven to 200C/180C Fan/Gas 6.

Put the potato, squash and aubergine into a large roasting tin and coat with 2 tablespoons of the masala paste and 2 tablespoons of the oil. Season with salt and pepper and roast for 30 minutes.

Heat the remaining oil in a large saucepan over a medium heat and fry the onions for 10 minutes, until soft and golden brown. Stir in remaining masala paste and cook for a further 3 minutes. Add the tomatoes, coconut milk and 100ml/3½fl oz water. Bring to the boil and simmer for 10 minutes.

Add the roasted vegetables to the pan, along with the peppers and courgettes and simmer for 10–15 minutes, until tender.

After the dough has rested for 1 hour, increase the oven heat to 230C/210C Fan/Gas 8.

Roll out the dough into naan shapes and top with the tomatoes and garlic. Bake for 10 minutes until puffed up. You can finish the naan under a hot grill if you wish.

Scatter the coriander over the curry and serve with the naan breads on the side.
Related Recipes
See more Veggie curry feast recipes (26)
See more vegetable curry recipes (52)
See more butternut squash recipes (147)