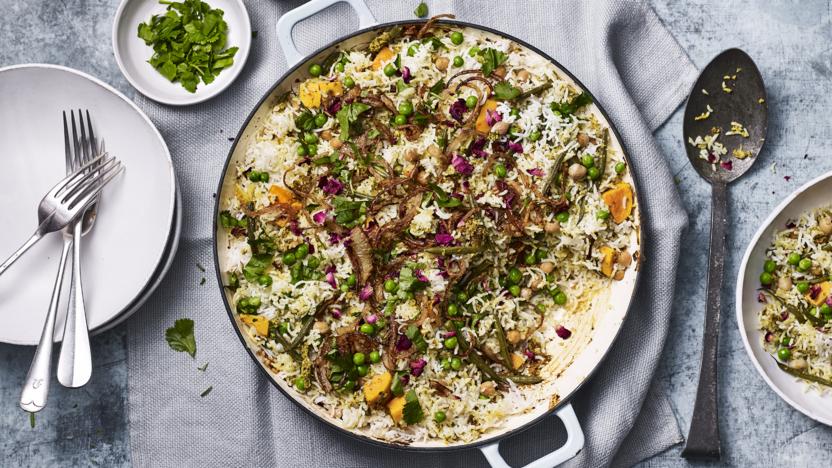 Richly flavoured with saffron and spices, this fragrant rice dish makes a luxurious vegetarian main dish – or serve other vegetable dishes alongside for an Indian-style feast.

Each serving provides 684kcal, 23g protein, 114g carbohydrate (of which 16g sugars), 12g fat (of which 5g saturates), 14g fibre and 0.3g salt.
Method
Rinse the rice in cold water until it runs clear, then soak in water for 25–30 minutes.

Meanwhile, mix the ginger, garlic, chillies and dry spices with the yoghurt, lemon juice, coriander and mint and season well. Blend in a food processor until fairly smooth, then mix with the vegetables and leave to marinate.

Drain the rice and cook in a saucepan of boiling salted water with the cardamom, cumin and bay leaf for 6–8 minutes, or until al dente. Drain well and mix with the chickpeas.

Preheat the oven to 200C /180C Fan/Gas 6.

Mix together the melted butter, cream and saffron in a small bowl.

Put a lidded flameproof casserole dish over a medium–low heat. Tip in the vegetables and their marinade (if the yoghurt is very thick, add a splash of water) and cook for 6–8 minutes, or until starting to soften. Season well. Spoon the rice evenly over the top and pour over the saffron mixture. Cover tightly and bake for 30 minutes.

Meanwhile, fill a deep pan a third full of oil and heat until bubbles form around a chopstick dipped into it. (CAUTION: hot oil can be dangerous. Do not leave unattended.) Fry the onions in batches until golden and crisp. Drain on kitchen paper.

Serve the biryani with the crispy onions and scatter over the dried rose petals, coriander and mint.