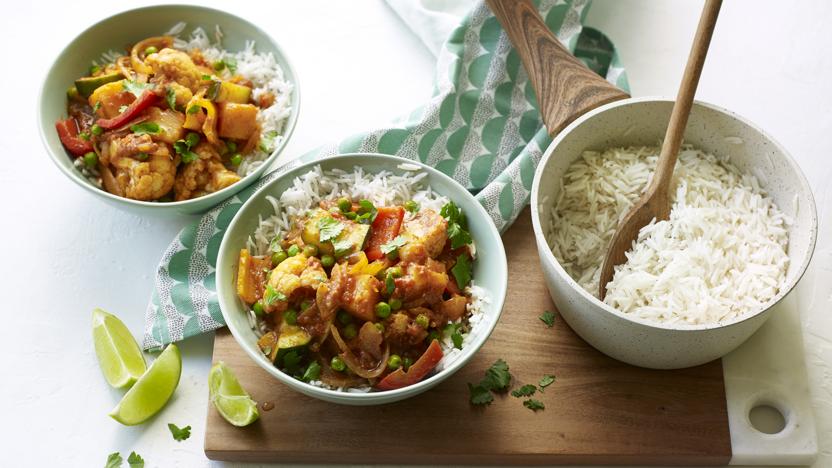 Turn a few vegetables into a knockout mid-week meal by making your own curry paste for this easy vegetable balti.

The paste makes enough for 4 curries for 4 people, store the rest in an airtight jar in the fridge or freeze until needed. Each serving provides 432 kcal, 15g protein, 83g carbohydrate (of which 14g sugars), 3g fat (of which 0.5g saturates), 9g fibre and 0.3g salt.
Ingredients
For the paste
For the balti
Method
To make the paste, blend the ingredients together in a food processor with 125ml/4fl oz water. Use one quarter in this recipe and decant the rest into ice-cube trays or small sealable containers to freeze.

To make the balti, heat the oil in a wok, saucepan or karahi pan over a medium heat. Add the onion and fry for 3 –4 minutes, or until just softening.

Meanwhile, place the rice in a lidded saucepan with 600ml/21fl oz water, stir well, then bring to the boil. Turn the heat down as low as it will go, cover with a lid and cook for 15 minutes, then remove from the heat and leave to stand with the lid on until the balti is ready.

Add a quarter of the balti paste to the onions and cook for 2–3 minutes. Add the cauliflower, squash, courgettes and peppers and stir well. Add the tomatoes, then refill the tin with cold water and add that to the pan with the crumbled stock cube. Simmer over a medium heat for 15–20 minutes, or until the vegetables are tender.

Stir in the peas and cook for 2 minutes. Season with the lime zest and juice, salt and black pepper.

Divide the rice between serving plates and spoon the balti alongside. Scatter with coriander and serve.
Recipe Tips
You can use this paste for a variety of curries – add 400ml/14fl oz coconut milk instead of the water, or add chicken instead of the vegetables, or finish it with a little cream.