Vegan toad-in-the-hole with red onion gravy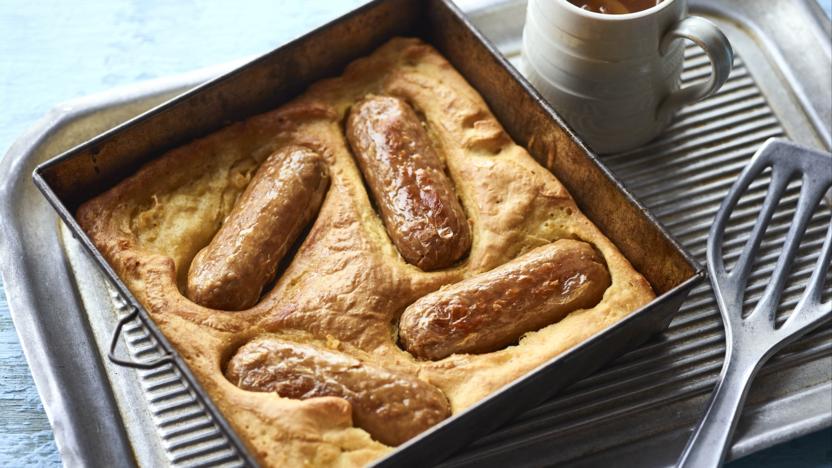 Make sure you don't thaw the vegan 'sausages' in this recipe before adding them to the hot oil – this ensures that everything cooks at the correct time.

Each serving provides 715 kcal, 34g protein, 75g carbohydrate (of which 9g sugars), 28g fat (of which 6g saturates), 12g fibre and 4.7g salt.
Method
Preheat the oven to 220C/200C Fan/Gas 7. Pour the oil into a metal roasting tin, roughly 20cm/8in – a cake tin will do as long as it doesn't have a loose base. Put in the oven and heat for 5 minutes.

Meanwhile, mix the flour, baking powder and salt in a mixing bowl. Add 200ml/7fl oz of the soya milk and whisk until smooth. Add the remaining milk and mix until thoroughly combined.

Carefully take the tin with the hot oil out of the oven; it will be extremely hot. Add the frozen sausages to the tin, spaced apart from each other, then return to the oven for 2 minutes.

Take the tin carefully out of the oven once more and pour over the batter. Return the tin to the oven and cook for 30 minutes, or until the batter is risen, golden brown and hot throughout. (The batter will be more doughy and heavier than a traditional toad-in-the-hole.)

While the toad-in-the-hole is cooking, make the onion gravy. Heat the oil in a saucepan and fry the onion for 10 minutes, or until softened and lightly browned, stirring regularly.

Pour the stock into the pan, add the ketchup, soy sauce and yeast extract. Bring to a gentle simmer and cook for 3 minutes, stirring occasionally. Mix the cornflour with a tablespoon of cold water in a small bowl until smooth.

Stir the cornflour into the pan with the onion and return to a simmer. Cook for 1–2 minutes more until the sauce is thickened, stirring. Season with lots of ground black pepper.

Serve the freshly cooked toad-in-the-hole with the hot onion gravy.
Related Recipes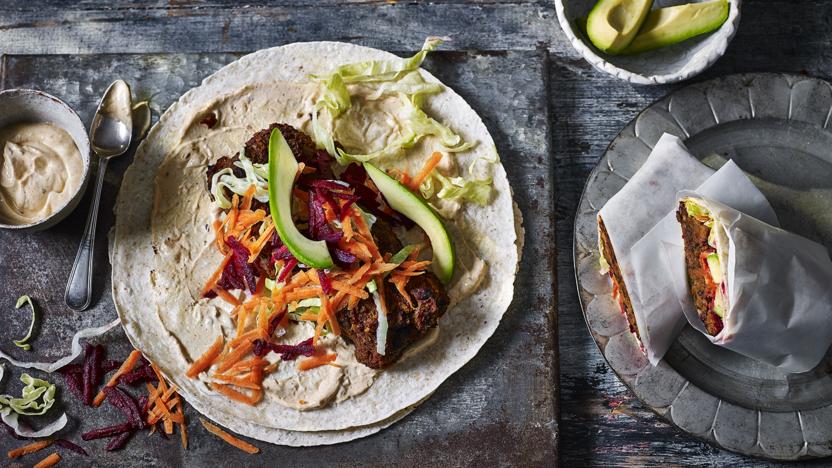 See more Vegan carbohydrates recipes (24)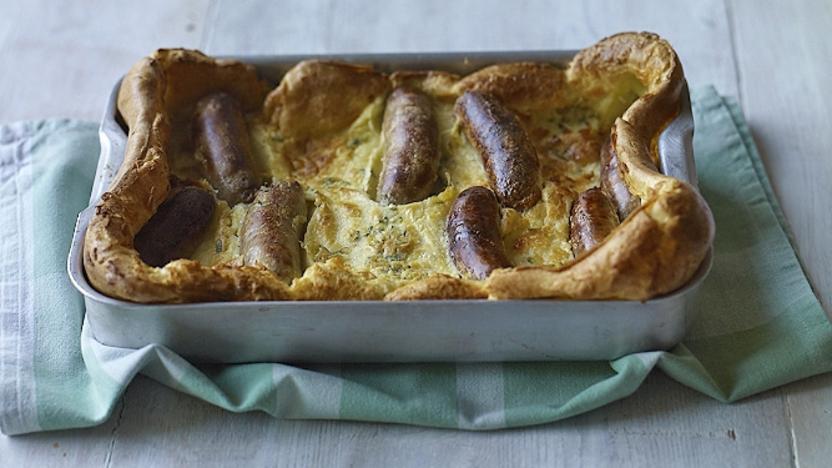 See more toad in the hole recipes (13)