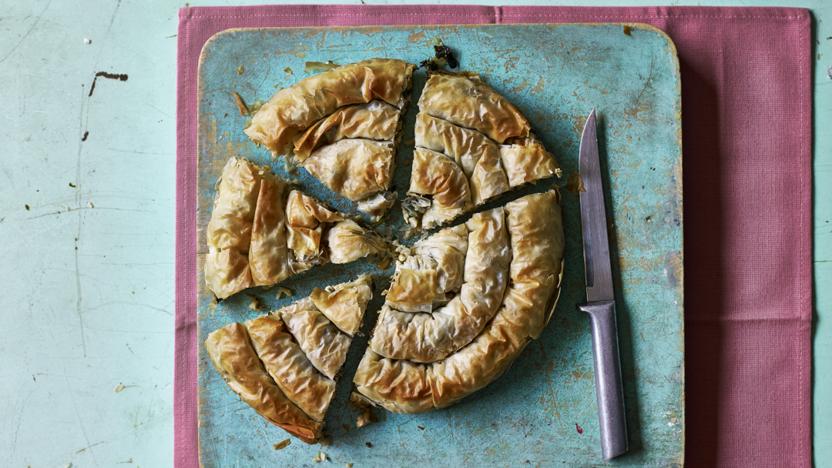 Give this vegan spanakopita pie a whirl - it's perfect for a vegan Easter main or picnic centrepiece.
Ingredients
For the filling
For the pastry
4 sheets filo pastry, each around 48cm/19in x 25cm/10in
3 tbsp extra virgin olive oil, plus extra for greasing
Method
To make the filling, heat the oil in a large, wide-based saucepan. Add the onion and pine nuts and fry for 5 minutes, or until the onion has softened and the pine nuts are lightly browned, stirring regularly.

Add the garlic and spinach, a couple of handfuls at a time, and cook for about 3 minutes, or until the spinach is very soft, stirring constantly. Drain the spinach mixture through a sieve, pressing with a spoon to remove as much of the liquid as possible. Leave to cool for 15–20 minutes.

Mash the tofu roughly with a fork in a large bowl. Add the lemon zest, breadcrumbs, nutmeg, oregano and mint and combine. Add the spinach and season with salt and lots of black pepper. Mix thoroughly.

Preheat the oven to 190C/170C Fan/Gas 5. Grease the base and sides of a 20cm/8in Victoria sandwich tin with a little oil. Put a large sheet of baking paper on a work surface.

Put one of the filo sheets on the paper with one long side facing you. Brush with olive oil. Spoon a quarter of the filling roughly 3cm in, from left to right in a long sausage shape from one end of the pastry sheet to the other.

Fold the pastry closest to you over the filling and then continue to roll tightly and firmly to make a long roll of pastry wrapped around the filling. Carefully lift the pastry roll and place tightly against the sides of the prepared tin.

Repeat the method with the remaining pastry sheets and filling, coiling the pastry around the tin until fully covered. Brush with the remaining oil and bake for 35–40 minutes, or until the pastry is crisp and golden brown and the filling is hot.