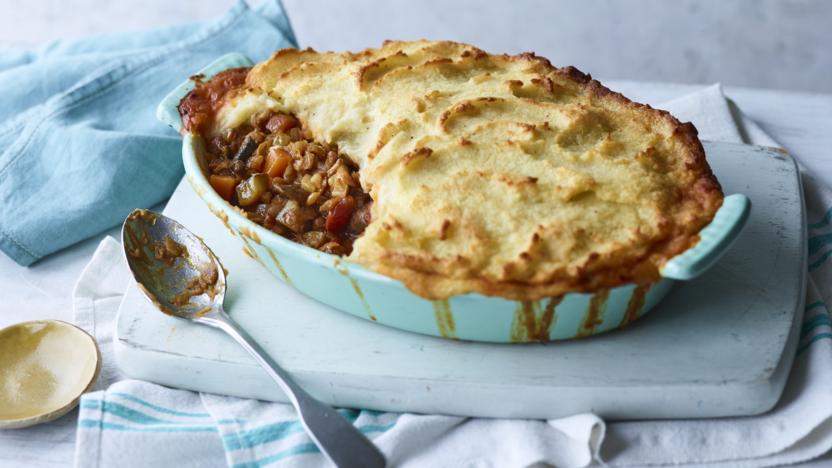 This delicious, savoury vegan shepherd's pie freezes very well, so make in individual portions if you prefer, or freeze the leftovers. The secret ingredient is nutritional yeast, a great vegan ingredient that lends a cheesy flavour to the mash topping. Serve with lots of freshly cooked green vegetables.

Each serving provides 441 kcal, 18g protein, 54g carbohydrate (of which 10g sugars), 13g fat (of which 2g saturates), 12g fibre and 1g salt.
Ingredients
For the filling
3 tbsp olive oil
1 medium onion, finely chopped
2 celery sticks, thinly sliced
1 medium leek, cut into roughly 5mm/¼in slices
250g/9oz chestnut mushrooms, sliced or halved, depending on size
1 medium courgette, chopped
2 garlic cloves, crushed
2 carrots, chopped
400g tin chopped tomatoes
2 x 400g tins lentils, drained and rinsed
100ml/3½fl oz red wine (vegan-friendly) or water
2 tbsp tomato purée
2 tbsp yeast extract, such as Marmite
1 tsp dried mixed herbs
1 vegetable stock cube
sea salt and ground black pepper
For the mash
1kg/2lb 4oz floury potatoes, ideally Maris Piper, peeled and cut into roughly 5cm/2in chunks
100ml/3½fl oz plant-based milk, such as almond or soya
3 tbsp extra virgin olive oil
2 tbsp nutritional yeast flakes
Method
To make the filling, heat the oil in a large, wide-based non-stick saucepan or sauté pan and gently fry the onion, celery and leek for 5 minutes, stirring regularly. Add the mushrooms and courgette and cook for a further 5 minutes, or until softened and lightly browned. Stir in the garlic and cook for a few seconds more.

Add the carrots, tomatoes, drained lentils, 300ml/10fl oz water, wine (or extra water), tomato purée, yeast extract, mixed herbs and crumbled stock cube. Season with salt and pepper and bring to a gentle simmer.

Cook for 30 minutes, or until thick. Stir occasionally at the beginning and more regularly towards the end of the cooking time so that it doesn't stick. Add a little extra water if necessary; it should look nice and saucy, but thick enough to support the weight of the potatoes. Adjust the seasoning to taste, making sure you are generous with the black pepper.

While the vegetables are simmering, make the mash. Put the potatoes in a large saucepan and cover with cold water. Bring to the boil, then reduce the heat slightly and cook for 15 minutes or until very soft.

Preheat the oven to 200C/180C Fan/Gas 6.

Drain the potatoes in a colander then return to the pan and mash with the almond milk, oil and nutritional yeast. Add a little more milk if necessary, so that the potatoes are really light and fluffy. Season with salt and pepper.

Pour the lentil mixture carefully into a 2.5 litre/4½ pints ovenproof dish – a lasagne dish is ideal. Spoon the potatoes gently onto the filling and fluff up the surface with the back of a spoon.

Bake for 30 minutes, or until pale golden-brown and bubbling. If the topping doesn't go brown enough, pop under a hot grill for a couple of minutes. Serve hot.
Recipe Tips
If freezing, defrost thoroughly and reheat in a microwave or oven until hot throughout.