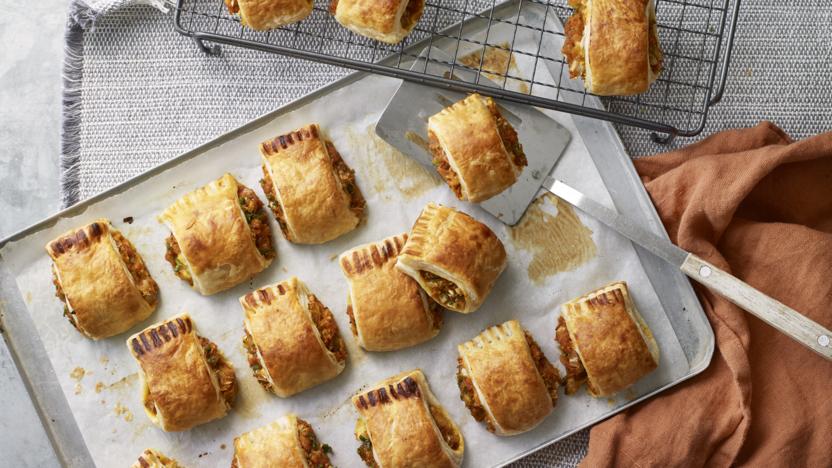 These vegan sausage rolls are inspired by Glamorgan sausages – which are vegetarian and include cheese – the leek and apple filling makes a great alternative. Make your own apple sauce following the recipe below, or use a shop-bought apple sauce or purée. Some ready-made apple sauce is infused with cider to add an extra pop of flavour.

Each roll provides 134 kcal, 2.5g protein, 15.5g carbohydrates (of which 4g sugars), 6.5g fat (of which 3g saturates), 1.5g fibre and 0.4g salt.
Ingredients
For the apple sauce
Method
To make your own apple sauce, put the apples in a saucepan with the sugar, lemon juice and 150ml/¼ pint water. Bring to a simmer over a low heat and cook gently for about 5 minutes, or until the apples are soft. Add the pepper and beat with a wooden spoon to break down the apples, then taste: you may need to add a little more sugar to balance the sharpness of the apples.

Remove the pastry from the fridge and allow to come to room temperature. Preheat the oven to 220C/200C Fan/Gas 7.

Heat the oil in a frying pan and fry the leeks for about 5 minutes, or until softened. Add the mustard, sage, smoked paprika and breadcrumbs and heat through for 1 minute. Add the apple sauce, salt and a large pinch of pepper and fry for 2 minutes. Set aside to cool.

Unroll the puff pastry and slice it into quarters. Spoon a quarter of the leek mix down the centre of each sheet, fold the pastry over, then press the edges together, using a fork to crimp and seal them. Slice into 8 large or 16 small sausage rolls.

Brush with tamari, then spread on a baking sheet and bake for 15–18 minutes until puffed and golden.