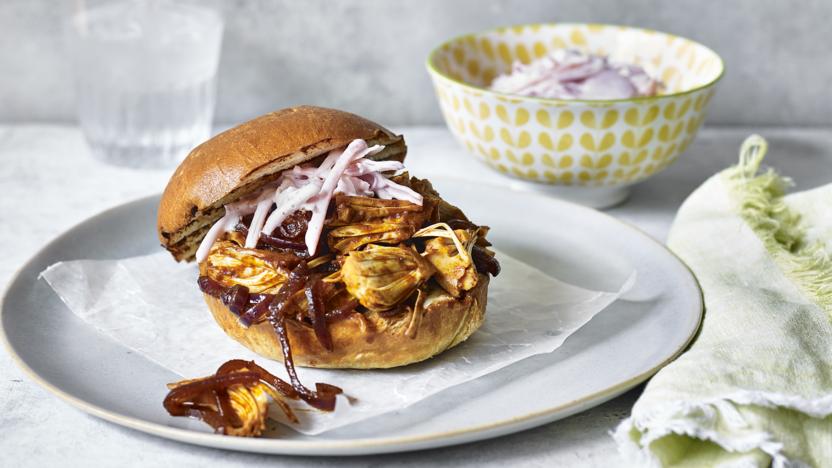 When you taste how good this pulled jackfruit is in a sandwich or taco filling, combined with your favourite slaws and salads for extra crunch, you'll want to eat it every day.
Method
In a frying pan, heat the oil and fry the red onion for 5–10 minutes over a medium heat until softened and browned at the edges.

Meanwhile, drain the jackfruit and rinse well. Trim off the core and pop out the seeds with the tip of a knife. (You can skip this. The seeds taste absolutely fine, but rather spoil the "pulled pork" illusion.) Cut each piece of jackfruit in half.

When the onions are caramelised, add the garlic, the smoked paprika, cumin, oregano, black pepper and tomato puree. Fry for a minute, stirring, then add the jackfruit, soy sauce, treacle or brown sugar, and vegetable stock. Stir everything together, bring to a gentle simmer for 20 minutes.

When the sauce is reduced and thickened, remove the pan from the heat and use a fork to mash the jackfruit into shreds. Taste and adjust the seasoning with a bit more soy sauce, sugar or some chilli sauce of your choice.

Serve immediately in the burger buns or wraps.
Recipe Tips
If you prefer a slightly chewier texture, spread the cooked jackfruit out onto a baking tray and bake at 200C/180C Fan/Gas 6 for about 15 minutes or until there are browned, crisp bits here and there.
Related Recipes
See more Vegetarian BBQ ideas recipes (29)
See more sandwich recipes (44)
See more jackfruit recipes (2)