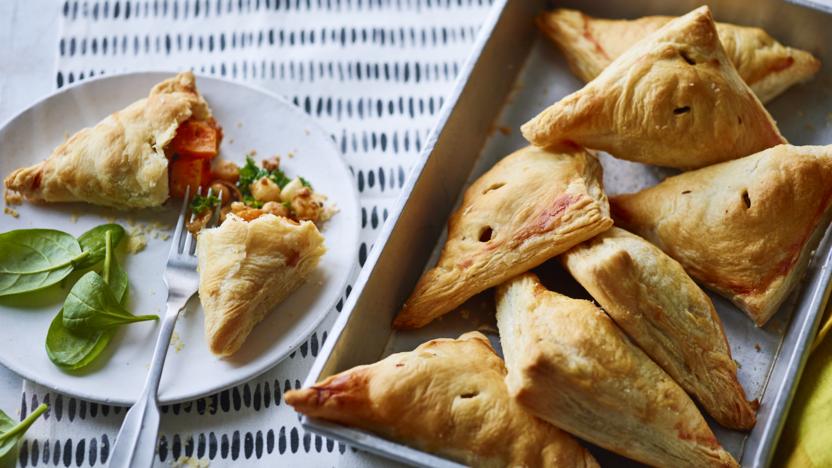 These easy vegan puff pastry pies are perfect for picnics, lunchboxes and buffets.

Each serving provides 279 kcal, 7g protein, 26g carbohydrate (of which 4g sugars), 15g fat (of which 6.5g saturates), 5g fibre and 0.5g salt.
Method
Preheat the oven to 190C/180C Fan/Gas 5.

Peel and deseed the butternut squash and cut the flesh into bite-size chunks. Tip onto a baking tray, drizzle over 1 tablespoon of the olive oil and season with salt and freshly ground black pepper. Cook in the preheated oven for about 30 minutes, turning halfway through until the squash is tender and starting to caramelise.

Peel and thinly slice the onion. Tip into a large frying pan with the remaining tablespoon of olive oil and cook over a low-medium heat for about 5 minutes until tender and just starting to turn golden at the edges. Add the garlic, crushed dried chilli, cumin seeds and harissa and cook for a further minute. Tip the quorn into the pan and cook for 3-4 minutes over a medium heat. Add the chickpeas, roasted butternut squash and vegetable stock, mix well, lower the heat and cook for 10 minutes until about half of the stock has been absorbed.

Add the shredded kale and continue to cook until the kale has wilted.

Remove from the heat and leave until cold.

If your pastry is in one block you will need to roll it out on a lightly floured work surface to a thickness of 3mm. Cut into squares about 12 x 12cm. If it's ready rolled then carefully unroll and cut into squares.

Spoon the filling onto one side of each square, brush the edges lightly with cold water and fold over the pastry to encase the filling in a neat triangular parcel. Press the edges together to seal and arrange the pies on parchment lined baking sheets. Brush the top of each pie with soya milk and bake on the middle shelf of the preheated oven for about 25 minutes until the pastry is golden brown and crisp.