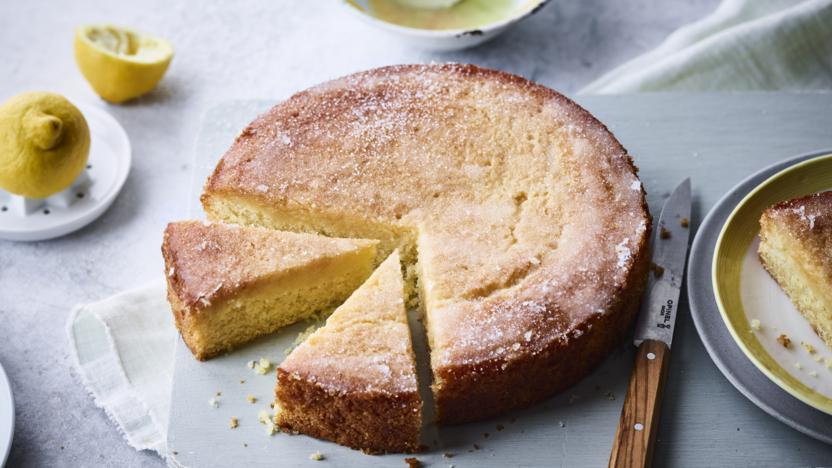 The lemon juice and sugar poured over while the cake is still warm gives a lovely sugary citrus topping to this easy vegan lemon cake.

You will need 1 x 20cm/8in round cake tin. Each serving provides 370 kcal, 5g protein, 50g carbohydrate (of which 30g sugars), 17g fat (of which 3g saturates), 1g fibre and 0.9g salt.
Method
Preheat the oven to 180C/160C Fan/Gas 4.

Grease the cake tin and line the base with a disc of baking paper.

Spoon the dairy-free margarine and caster sugar into a mixing bowl (or bowl of a free-standing mixer). Sift in the plain flour, baking powder, bicarbonate of soda, ground almonds and a pinch of salt.

Add the soya milk, lemon zest and juice from one lemon. Beat well until the ingredients are thoroughly combined and the mixture is smooth.

Quickly spoon the cake mix into the prepared tin, spread level with the back of a spoon and bake on the middle shelf of the preheated oven for 1 hour to 1 hour 10 minutes.

Sit the cake tin on a cooling rack and leave for 5 minutes.

Meanwhile, combine the juice from the remaining lemons with the granulated sugar and carefully and evenly spoon over the top of the cake.

Leave the cake until completely cold before removing from the tin and serving.
Recipe Tips
Choose a dairy-free spread that has a high fat and low water content for best results.