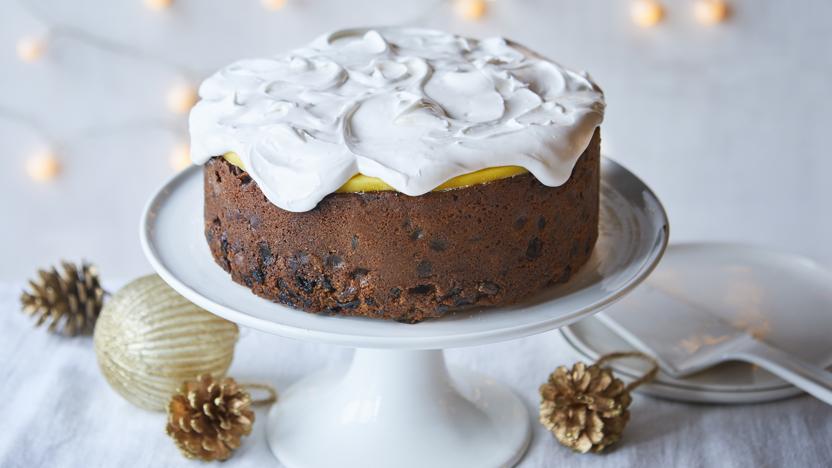 This beautifully soft-crumbed vegan Christmas cake firms on maturing, so make ahead and follow our feeding instructions (see tip) for the best results come Christmas time. It's not so rich that you couldn't make it all year round, for birthdays and other celebrations. Make sure the sherry you use is vegan – some aren't, though vegan sherry is widely available.
Method
The day before you want to bake the cake, put the dried fruits, sherry, lemon and orange zest and juice in a bowl, cover and leave to soak overnight.

The next day, line the base and sides of a deep 20cm/8in round cake tin with a double layer of baking parchment and wrap a double layer of newspaper around the outside, tying it with string. Preheat the oven to 150C/130C Fan/Gas 2.

Mix the non-dairy milk and chia seeds together in a small bowl and set aside until sticky.

In a large mixing bowl, beat the sugar, treacle and margarine until pale and fluffy.

In another bowl, mix together the flour, almonds, mixed spice and bicarbonate of soda.

Add the chia and milk mixture to the creamed sugar and margarine, together with the dry ingredients and the vinegar. Mix with a wooden spoon to a smooth, stiff batter. Stir in the soaked dried fruit and any remaining liquid. Spread into the prepared tin and level the top.

Bake for 2 hours. To check the cake is done, push a skewer into the centre – it should come out clean. Leave to cool completely in the tin.

Once cool, remove the cake from the tin and peel away the lining paper. If making ahead to mature, see recipe tip below.

When you're ready to decorate, warm the jam until runny; set aside. Lightly dust your work surface with icing sugar, then roll out the marzipan to a 20cm/8in circle (cut around your cake tin for a neat finish). Brush the top of the cake with jam and stick on the marzipan.

To make the icing, beat the aquafaba with an electric whisk – ideally a stand mixer – until foamy. Sift in the icing sugar then continue to beat until the mixture becomes really stiff and glossy: this will take about 15 minutes of beating. Add the liquid glucose and lemon juice and beat briefly. Thickly swirl the icing on top of the marzipan to give a snow-capped look (keep any extra icing covered with a moist tea towel for attaching your decorations). Leave to dry overnight, or until completely hard.

Add your favourite Christmas decorations, dried flowers, LED tea-lights and ribbons.
Recipe Tips
We used 200g/7oz each of raisins and sultanas, 85g/3oz chopped candied peel, 85g/3oz diced dried apricots and 85g/3oz halved glacé cherries, but you can use ready-mixed dried fruit.
You can make the cake a couple of months ahead: keep it in an airtight tin, or well-wrapped in baking paper then kitchen foil. Use a toothpick or skewer to poke a few holes into the top of the cake and 'feed' it once a fortnight with 1–2 tablespoons of sherry – or brandy, rum or black tea. Stop feeding a week before you want to ice it.
If you prefer softer icing, most of the widely available brands of fondant icing are vegan. You'll need about 850g/1lb 14oz ready-to-roll fondant icing, and 500g/1lb 2oz marzipan if you'd prefer to cover the sides and top of the cake. Follow our link here.