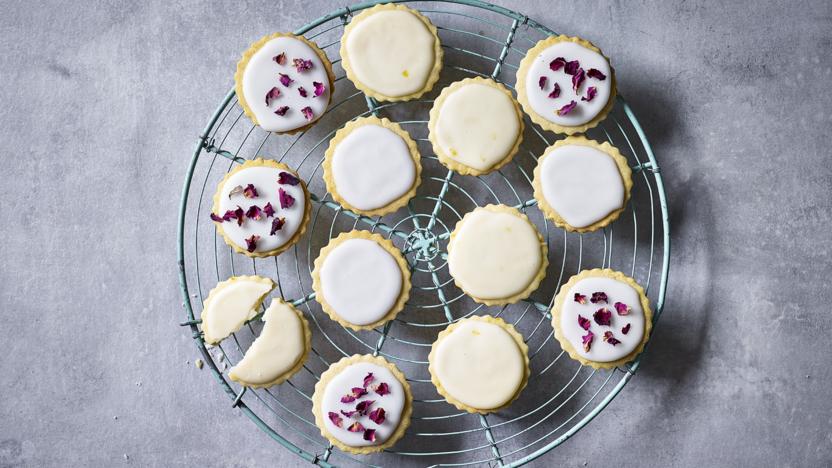 These easy iced biscuits are 100% vegan and easy to to customise with different flavours – perfect for afternoon tea!

Each serving provides 132 kcal, 1g protein, 26g carbohydrate (of which 19g sugars), 3g fat (of which 0.5g saturates), 0g fibre and 0.1g salt.
Ingredients
For orange flavoured biscuits
For ginger biscuits
For lemon and rose biscuits
Method
Cream together the vegan margarine and the sugar in a mixing bowl until light and creamy.

Add the orange zest, ginger or lemon zest, depending on which flavour of biscuit you are making, and stir in the flour to form a dough.

Using your hands, bring the dough together into a smooth bowl and wrap in cling film. Refrigerate for 40 minutes to allow the margarine to firm up a little.

Preheat the oven to 160C/140C Fan/Gas 3 and line two baking trays with baking parchment.

Generously flour a clean work surface and roll out the dough to about 4mm/⅛in thickness. Using a medium cutter, cut the biscuits into rounds, gently kneading any scraps back into a ball and rolling them out again to yield more biscuits.

Bake the biscuits for 12–14 minutes, or until they are just golden-brown.

Slide the biscuits onto a cooling rack to cool while you make the icing.

Stir together the icing sugar and orange juice; icing sugar and lemon juice; or the icing sugar, rosewater and water. Using the back of the spoon, smooth the icing over the surface of each biscuit, once cool.

Sprinkle the top of the biscuits with a couple of dried rose petals, if using, and leave the icing to set before storing in an airtight tin.